Showing data about
arrow_drop_down
Please select a data topic
The pharma industry - R&D
The pharma industry in figures - Economy
The pharma industry in figures - Employment
The pharma industry in figures - Healthcare
Value to patients
Value to healthcare systems
Value to the economy
Value to society
Medicines cost in context
Innovation
Collaborative solutions


with a focus on
arrow_drop_down
Please select a data topic
Pharmaceutical R&D expenditure in Europe, USA and Japan
R&D process
R&D in Europe
Allocation of R&D investments
New chemical or biological entities
Estimated costs of bringing a new entity to market
Pharmaceutical R&D expenditure - Annual growth rate (%)
R&D intensity
Impact on the European economy
Geographical breakdown of sales of new medicines
R&D expenditure in Europe, USA and Japan
Parallel imports
Production
World pharmaceutical market
Market value
VAT rates
Generics
Imports and exports
Trade balance (by country)
Trade balance - high technology sectors
EU main pharmaceutical trading partners
Employment in the pharmaceutical industry (by country)
Employment in the pharmaceutical industry (by year)
Employment in pharmaceutical R&D
Total spending on healthcare
Payment for pharmaceuticals
Causes of death by major disease areas
Breakdown of health expenditure
New medicines
Cancer mortality
Cancer - life expectancy
Hep C - cure rates
Chronic diseases - impact
Vaccines - impact
HIV - death rates
Innovation
Personalised medicines - Leukemia survival
Personalised medicines - Lung cancer
Rare diseases
Medicines benefits
Health gains and savings
The added value of medicines
Shift towards cure and prevention
Medicines and total healthcare costs
Industry contribution to European economy
R&D spending by industry
R&D spending as a percentage of net sales
Value added per employee
Worldwide pharmaceutical R&D investment
UK pharmaceutical R&D investment
Innovative treatments – longevity and productivity of patients
Clinical Trials
Unmet medical needs
Cancer survivorship and employment
Healthcare systems – challenges
Ageing population
Chronic disease
Pharmaceutical expenditure
Pharmaceutical expenditure in Germany
Cancer-related healthcare costs
Cost-reduction of off-patent medicines
Generic medicines
Biosimilars
Health outcomes
New medicines
Advances in medicines
Rare diseases
R&D spending as a percentage of net sales
Innovation – challenges
Research and development process
Early access
IMI
Access
Outcomes-driven sustainable healthcare
Stability agreements
Finding solutions


Update
The biopharmacetical research and development process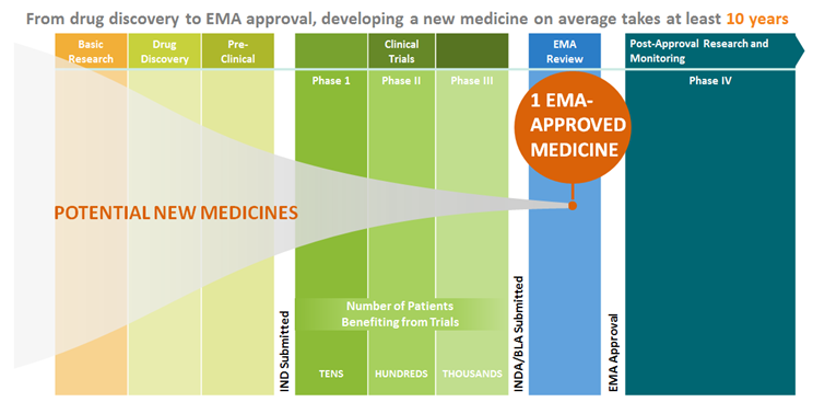 Note:
*The average R&D cost required to bring a new, FDA approved medicine to patients is estimated to be $2.6 billion over the past decade (in 2013 dollars), including the cost of the many potential medicines that do not make it through to FDA approval.
Key: IND: lnvestigational New Drug Application, NOA: New Drug Application. BLA: Biologics License Application.
Source:

PhRMA 2016 Prescription Medicines: Costs in Context.