#ForTheChance to see the beauty of everyday life from a different perspective
The story of Christian, living with lung cancer
In April 2007, at the age of 40, I was diagnosed with stage IIIB lung cancer. After almost a year of treatment, which included surgery, chemo- and radiation-therapy, I spent a few weeks in a rehab hospital. It was in winter and I took a walk outside on a cold, sunny day, when I saw some bushes completely covered in ice and glistening in the sunlight. At that moment, I felt very thankful for being able to experience that beautiful sight. A beautiful sight that I most likely wouldn't have even noticed before my diagnosis. So I'd say, my cancer experience gave me a new perspective on the beauty of everyday life.
Thanks to the treatments that I received, I'm still alive and able to enjoy life, and this new perspective that I've gained.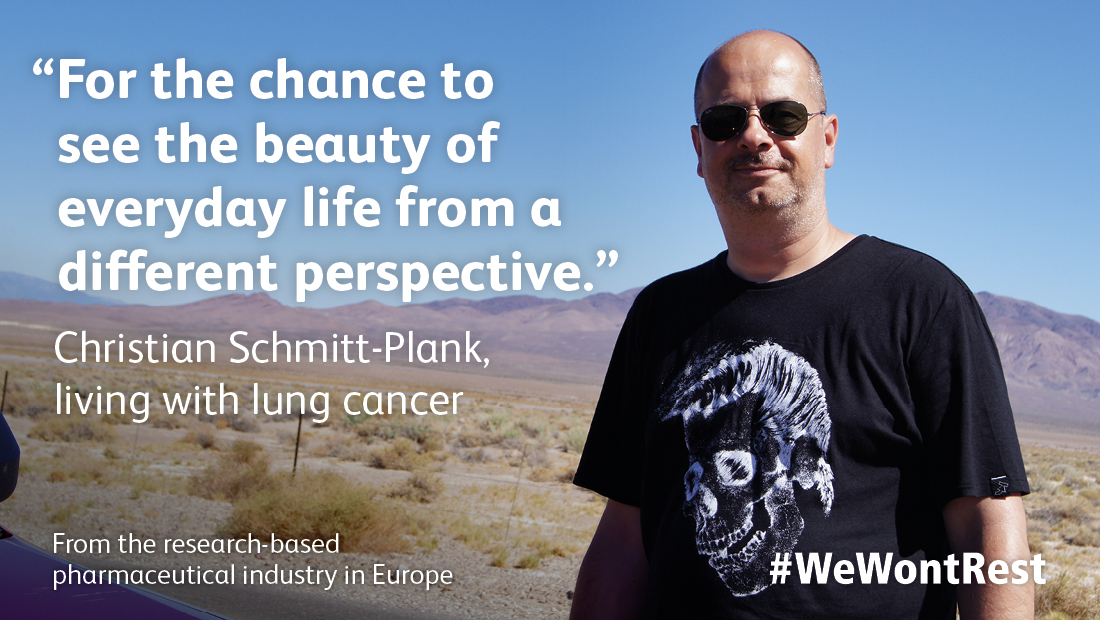 Two events marked my personal "victory" over cancer. The first one was when I buckled up my skis for the first time after my year of cancer. The second, was a business trip to California, that I then extended into a vacation with my family. We rented a car and drove from San Francisco to LA, and then to Las Vegas through Death Valley. It was amazing. Going through Death Valley was somehow personally symbolic to me. On the journey through Death Valley my wife took this photo of me.

Some time later, I joined a lung cancer patient organisation in Germany. I did this because I wanted to set a positive example for other lung cancer patients. A positive example that could give them a little bit of hope in their current situation.

In recent years, we have seen a lot of progress in the development of new treatment options in lung cancer. These developments are very promising in our eyes.

Hopefully in the future, long-term survivorship will become much more common in lung cancer, and more people can beat the odds.