mRNA vaccines for brain cancer
mRNA technology gave us the first COVID-19 vaccine and it could be used in the future to fight cancer
mRNA vaccines prepare the immune system to fight disease. Besides COVID-19, they are being developed for Glioblastoma, an aggressive form of brain cancer.
Glioblastoma incidence in the EU is 22.100 (around

16% of brain and central nervous cancers

).
Mortality is high, with

only 25% of patients

surviving more than 1 year after diagnosis.

What is the potential breakthrough?

mRNA vaccines are faster to produce than traditional vaccines, and an mRNA-based vaccine is also safer for the patient, as they are not produced using infectious elements.

How will it help patients?

mRNA vaccines could be a lifesaving therapy for patients with glioblastoma, allowing them to live longer, healthier lives and sparing families the agony of losing loved ones early.

What is the potential impact on Europe's healthcare systems?

mRNA vaccines for glioblastoma could reduce hospital-based healthcare burden by reducing the need for palliative and surgical care from oncologists, freeing up resources that can be used to diagnose and treat more patients faster and more effectively.



What is the potential impact on societies?

mRNA vaccines will see more patients survive long-term, allowing them to return to work, while reducing the care burden on families and friends.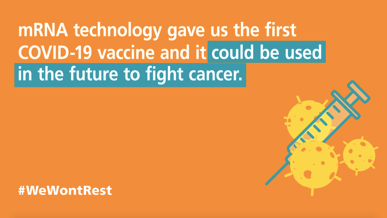 Download the full IQVIA/EFPIA Pipeline Review 2021
Featured article
WeWontRest
Disease never takes a break, so neither do we. We won't rest until people around the world see a brighter tomorrow.
Read more