SMEs in Europe
Biopharmaceutical SMEs and their role in the industry
Biopharmaceutical small and medium-sized enterprises (SMEs)* are key drivers of innovation in Europe. They play a major role in the development of new medicines, particularly in sectors that are under-served due to technological challenges or lower expected market potential, such as biological approaches, potential pandemics, infectious and rare diseases. For example, from all medicines from SMEs that were recommended for marketing authorisation between 2005-2015, 1 in 2 contained a new active substance and 42% of the medicines were for rare diseases[1]. Additionally, 81% of preclinical projects in the antibacterial pipeline are in SMEs. This huge added value that SMEs bring to the industry underlines the importance of their role and the need to create an ecosystem that supports this innovation[2].

The SME ecosystem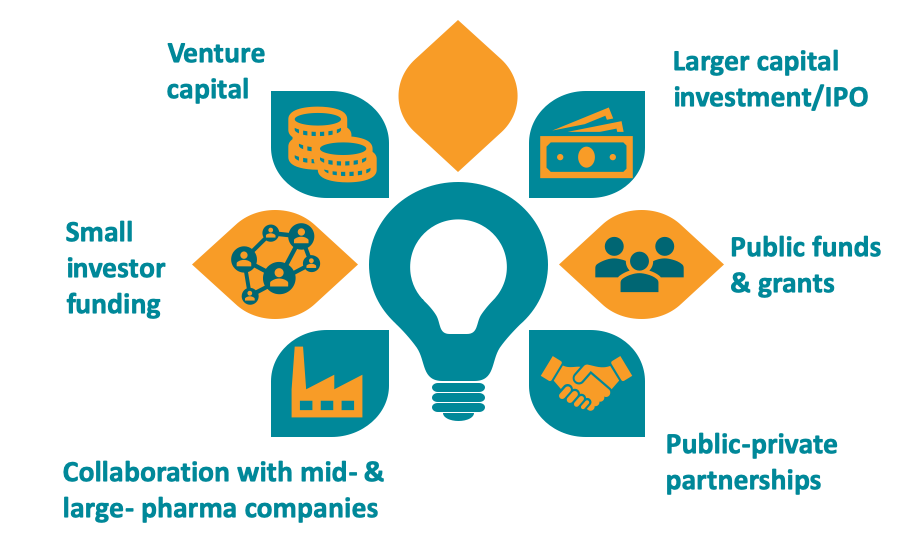 SMEs with bright ideas and a strong team have a range of options when looking for early-stage investment. Grants, seed venture capital and loans support companies in their early stages of development. The challenges mount if the preclinical phase goes well. Early success brings a significant increase in the need for funding.

The reason is simple: clinical trials are very costly and time-consuming, at a different level than start-ups and fast-growing small IT firms or green-tech companies.

The costs and timeframes for drug development are a turn-off for many investors. Very few European public or private investors are keen on investing more than €100 million in a company that might not have revenue for over a decade – and, like any innovative company, live with the risk of failure.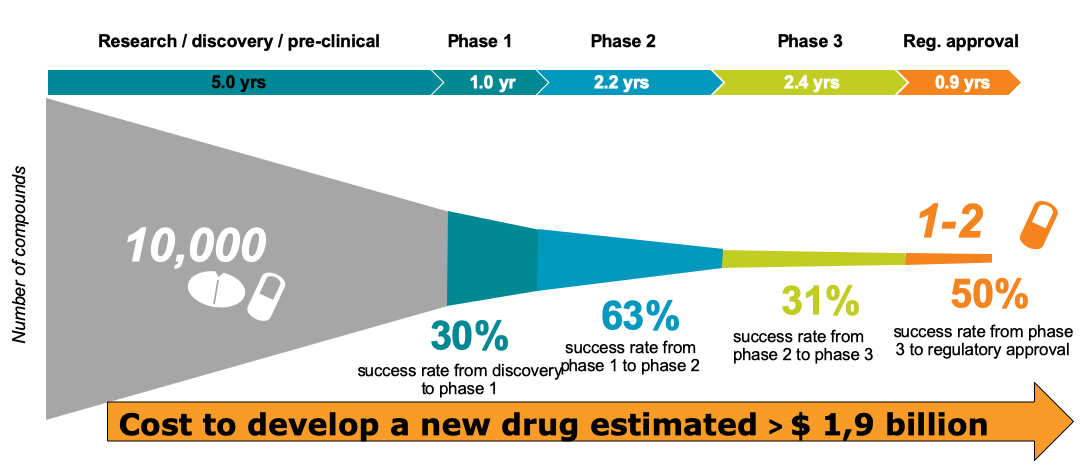 Companies typically look to venture capital or private equity support for this high-risk/high-reward investment. Other solutions – such as public listing, joint ventures and partnerships with larger pharmaceutical companies – are also an option. For European biopharmaceutical SMEs, the final phases of product development usually necessitate either making a deal with an established multinational firm or relocating to the US. Ultimately, few European SMEs bring their products to market alone.

The gap between the early stages of product development, currently well supported, and reaching the market is often called the 'valley of death' – a chasm into which countless innovative firms are lost.
EFPIA SMEs' proposal for an innovative funding in Europe
To mitigate this gap, EFPIA SMEs are currently discussing a proposal addressed to the European Commission to develop financial instruments that would create new ways of risk-sharing and boost the size of venture capital funding. There is a need to create large specialised European life science guarantee funds composed of public and private investors such as the European Investment Bank, pension funds, insurance companies and banks.  These investors could invest in all phases of the SME development from early stage to market launch. Such an innovative funding mechanism would help retain European innovative SMEs that go to the US to finance their development.

A robust EU industrial and pharmaceutical strategy is important for SMEs
Additionally, a robust EU industrial and pharmaceutical strategy must be at the heart of the European landscape that emerges from the pandemic. To make Europe an innovation hub, companies and investors need to see a stable regulatory system, a supportive intellectual property regime, access to market, and a strong research ecosystem. 
Why is intellectual property important for SMEs?
EFPIA SMEs position on the EC SME Strategy
*Biopharmaceutical SMEs are enterprises focussed on the discovery and development of biopharmaceutical products for human healthcare, based on tools and approaches from modern biotechnology. They have a turnover of less than €50 million, and up to 250 employees. To find out more about the EFPIA SME members, click here.

Additional Resources
[1] 
EMA, 
REPORT ON THE 10TH ANNIVERSARY OF THE SME INITIATIVE, 2016
[2] THEURETZBACHER, U. ET AL. 

NAT REV MICROBIOL (2020)