Antimicrobial resistance: time for action on the silent pandemic
Driving innovation in antimicrobials R&D
The World Bank estimates that by 2050, 10 million people per year could die if new antimicrobials are not found[1]. Without effective prevention and treatment of infections, medical procedures such as organ transplantation, cancer chemotherapy, and major surgery will become too dangerous to perform. If COVID-19 has taken the world by surprise, the impact of AMR can be foreseen. 

Let's find the solutions
Despite the huge societal costs of AMR, there is currently no viable market for new antibiotics and pipelines are thin– yet, the world urgently needs new antibiotics. New antibiotics are used sparingly to preserve effectiveness, so in recent years, a number of antibiotic-focused biotechs have declared bankruptcy or exited this space due to the lack of commercial sustainability, resulting in the loss of valuable expertise and resources. The consequence is a huge public health need for new antibiotics, but lack of funding available for antibiotic R&D, particularly the later stages of clinical research. This creates a "valley of death" between discovery and patient access.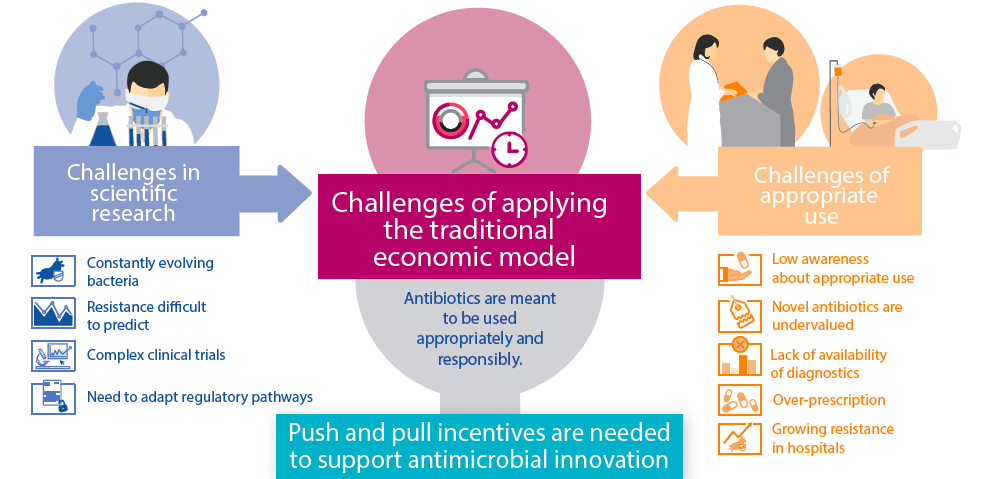 Time to rethink innovation incentives to tackle AMR

To fight AMR, bold action is required to build a pipeline for future antimicrobials and give companies confidence to start reinvesting in antimicrobials development. 

The biopharmaceutical industry is engaging in a wide range of activities to promote antimicrobial stewardship to slow the emergence of resistance, prolong the effectiveness of antimicrobials, and improve patient outcomes. In addition, the Innovative Medicines Initiative (IMI) has delivered significant investment and built valuable collaborations in AMR research.

The AMR Action Fund, a ground-breaking partnership from over 20 leading biopharmaceutical companies, was launched in 2020 to invest nearly $1 billion to strengthen and accelerate antibiotic development. Its ambition is to bring between two and four new antibiotics to patients by 2030. The Fund received investments of more than US$140 million from the European Investment Bank, Wellcome Trust, the Novo Nordisk Foundation and the Boehringer Ingelheim Foundation. Its goal is to ensure there is a sustainable pipeline of new antibiotics to fight the highest priority bacterial threats, by harnessing the investment, expertise and political will needed. This provides much needed short-term support; however, it is only a bridging mechanism, recognising in its mission that further policy reforms are required to ensure a sustainable anti-microbial ecosystem.

There is currently broad consensus on the need for both push and pull incentives to address the lack of new anti-microbials. Push incentives de-risk early research, while pull incentives support 'end-to-end' development including late-stage R&D and reward success for developing a new anti-microbial. These are complementary as they seek to address different barriers to the development of new anti-microbials, but ultimately need to work together. Significant progress has been made in the implementation of push incentives. However, a lack of pull incentives remains.

To revitalize anti-microbial R&D, it is essential to reward successful innovation at a level that is sufficient to attract the investment required and incentivise companies to take on the substantial risks of anti-microbial R&D. To achieve this objective, we call for the development of a new incentive at the European level in the form of a transferable exclusivity extension (TEE). An EU TEE can serve as a complementary pull incentive mechanism to other incentives in the package such as value assessment and reimbursement reforms at national level, supporting sustainable access after launch. It would also support broader initiatives that aim to improve surveillance, stewardship and EU-wide access and distribution of anti-microbials, which are key pillars in the fight against AMR.
Read our recommendations for a new EU pull incentive to address Antimicrobial Resistance (AMR)
[1]
https://www.worldbank.org/en/topic/health/brief/antimicrobial-resistance-amr