Fighting cancer
EFPIA oncology platform
#WeWontRest until everyone diagnosed with cancer has a brighter future

Tackling the challenges of Europe's second biggest cause of death requires collaboration, partnership and novel approaches. That is the goal of the EFPIA oncology platform which brings together 
EFPIA member companies aiming to transform the lives of patients diagnosed with cancer.
Cancer care in Europe: Where are we in 2020?
Cancer remains the second most common cause of death in the EU and its incidence is on the rise. It is closely linked to demographic and lifestyle trends which are likely to persist or even amplify in the future. Furthermore, major disparities exist in access to cancer care and overall survival rates across Europe. Five-year survival rates for colon cancer range from 70% in Iceland to 50% in Croatia. If we all raised our game to the standard set by Iceland, an additional 15,706 people would survive for at least five years after diagnosis.
To find out more about the impact of cancer in Europe click here.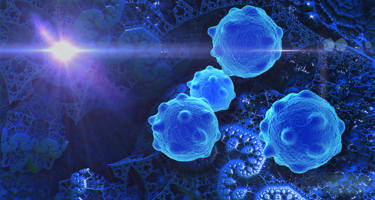 Featured article
Cancer Care in 2020 – An overview of cancer outcomes data across Europe
Read more
But a brighter future is on the horizon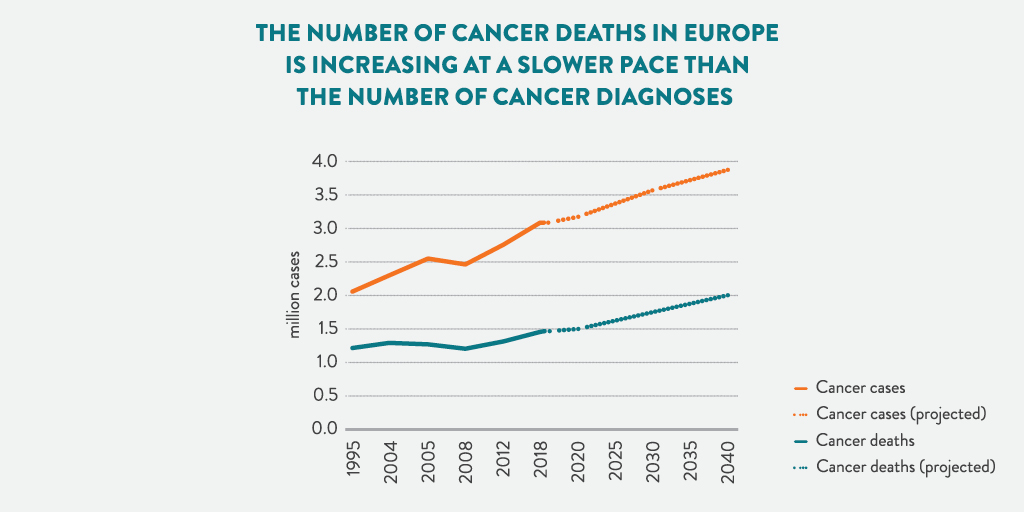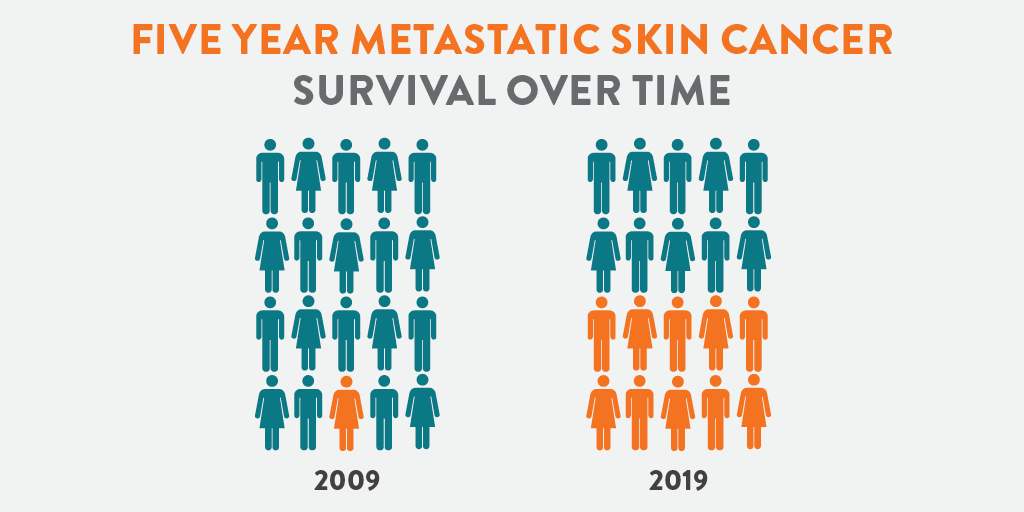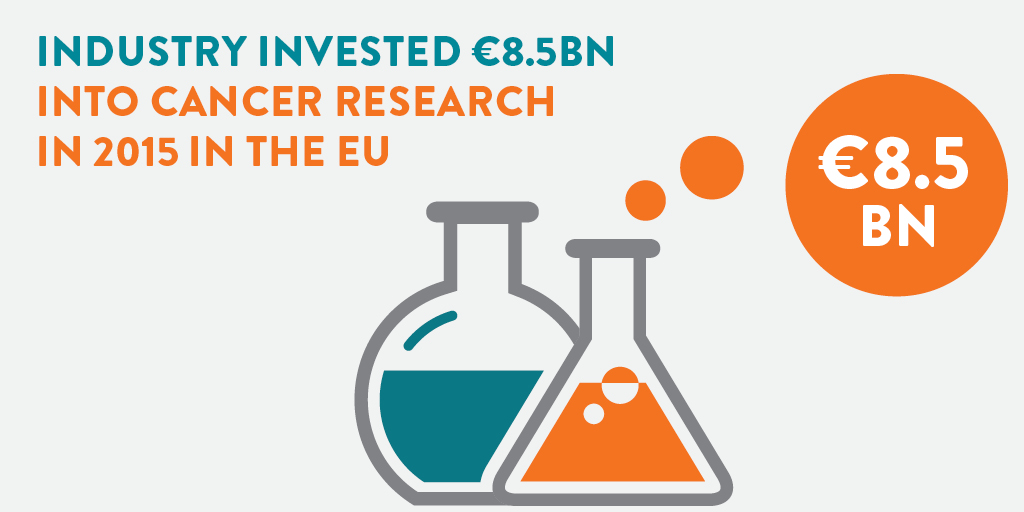 The absolute number of people diagnosed with cancer rose around 50% in Europe over the past 20 years – for a range of reasons including population ageing, lifestyle factors and earlier diagnosis. However, the number of deaths only increased by 20%. Allowing for population growth and ageing, in real terms cancer deaths are actually falling.



A combination of preventative programmes, timely diagnosis and intervention, and advances in treatment are helping to prolong people's lives. More than that, new therapies have delivered reported improvements in quality of life for several cancer types. For patients it means more moments with family, friends, children, and simply more moments to enjoy life.


We are in an era of unprecedented innovation in treatment for patients, reflecting the intensive investment that has been made in the discovery and development of new approaches to the treatment of all forms of cancer and the investments that continue to be made by health systems to improve access, screening and early diagnosis. We will continue to invest in cancer research, pushing the boundaries of our understanding of cancer, how it develops and how it can be effectively treated. You can find out more about individuals commitment to tackling cancer here.
To realise the potential means overcoming challenges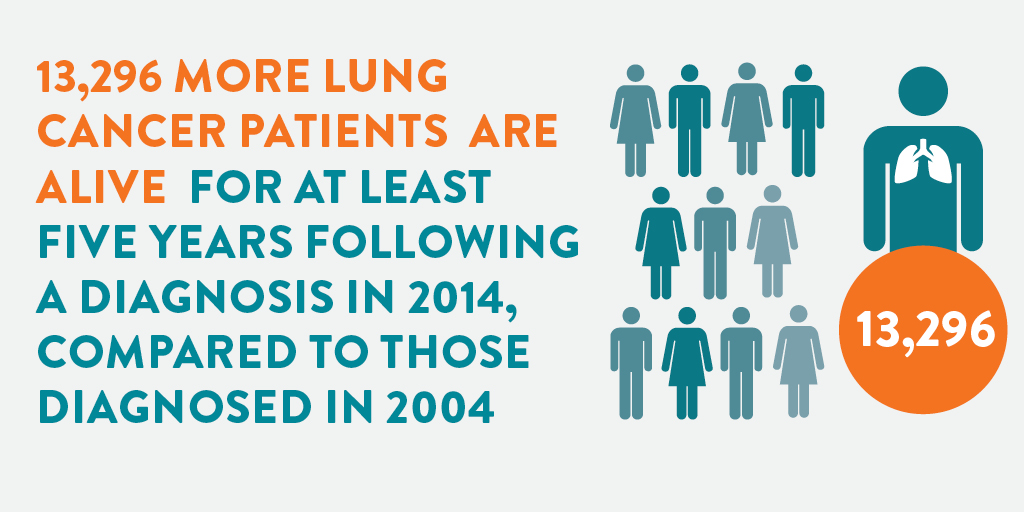 Over the past decade there has been a profound shift in cancer treatment from chemotherapies towards more targeted therapies. These therapies are tailored to the specific characteristics of the tumour, resulting in more effective treatment with fewer side effects and longer-term consequences of treatment.  The past five years have also seen the introduction of immunotherapies, which work with the body's own immune system to target the cancer.
New gene and cell-based therapies are also being introduced, providing a potential one-off curative treatment for some cancers. As a result of these innovations in treatment, cancer is increasingly transforming from an acute into a chronic disease.

However, this innovation is also arriving at a time when many governments are maintaining flat or declining healthcare budgets. Despite the growing incidence and relative burden of cancer, the spending on cancer care has remained more or less flat around 6% of total healthcare expenditure on average in the EU over the last 20 years. Considering that cancer is set to become disease burden #1, we must consider how to combine political will with efficient investment of financial resources in prevention, diagnosis, treatment and survivorship – for the benefit of cancer patients.

What can we do to address the significant personal and economic burden posed by cancer in Europe? 

There is no value from innovation if patients for whom it is intended, do not have access to it. Realising the opportunities of innovation in cancer care and addressing the barriers to effective patient access requires concerted efforts from the entire cancer community. EFPIA's Oncology Platform welcomes the renewed focus on cancer expressed by the EU institutions and Member States. Through our work with the cancer community, we have identified three priority areas for change to ensure we harness the progress achieved to date and promote future advances in cancer care:
Improving the sustainability and integration of cancer care: In response to the growing incidence and prevalence of cancer, policy-makers at European and national level need to appropriately prioritise it, including sufficient levels of funding for cancer prevention, screening, treatment and survivorship.
Accelerating the time it takes to get new treatments to patients: To enable timely patient access to promising new treatments, regulatory, healthcare technology assessment and payer decision-making processes need to evolve, recognising the need for patient-focused assessments of benefit, consideration of novel surrogate endpoints, comprehensive patient approach and appropriate data monitoring to confirm expected benefits over time.
Developing tailored pricing and reimbursement models for cancer medicines: Novel pricing and payments models have the potential to further accelerate patient access, allowing payers to manage clinical uncertainty, budget impact and sustainability of healthcare systems, whilst providing sufficient incentives for innovation. We stand ready to work with the stakeholder community to encourage the wider and appropriate adoption of these models by healthcare systems across Europe.
These priorities are delivered through the following work-streams:
Improving patient access to clinical trials
remove add
This initiative aimed to identify challenges in oncology clinical trials, share information between stakeholders, and work collaboratively on specific issues. In particular, assessing the barriers to cross-border trial participation (especially regarding reimbursement of regular medical costs); and mapping 'trial finder' initiatives
Health data to improve access to cancer medicines
remove add
The oncology data landscape is fragmented and rapidly evolving, and it can be difficult to have a clear view of the area. Yet effective collection and use of oncology data is essential for diverse improvements in research, treatment, and the efficient running of health systems.

To address this lack of clarity, the EFPIA Oncology Platform has undertaken a research project on the 'Oncology Data Landscape'. This research has included interviews with a wide range of stakeholders and experts on oncology data.

The project provides a mapping of oncology data sources and initiatives in Europe, and explores ways to make the use of oncology data more effective for patients and health systems. The overall report and narrative should help anyone looking for an overview of the situation of oncology data in Europe. The other materials cover specific aspects in more depth. And looking ahead, the project identifies strategic solutions that could help to improve the current situation.

The project comprises the following resources:
- Overall report: a detailed summary of the research conducted for the Oncology Data Landscape project
- Oncology data narrative: a short, overview presentation on the background to oncology data, main challenges to its use, and proposed solutions
- Data sources and initiatives: summary of data sources and archetypes, use cases for oncology data, and profiles of initiatives that are seeking to transform the way oncology data is used
- Barriers: Overview of barriers to the collection and use of oncology data
- Trends: Identification of trends affecting the health data landscape in Europe
- Strategic solutions: Gaps and opportunities in the oncology data landscape based on use cases and barriers, with three potential initiatives described in detail
- Country profiles: Summary of characteristics of 10 countries in their use of oncology data
Combination pricing
remove add
On 16 November 2017 EFPIA hosted a 3rd multi-stakeholder workshop to discuss the challenges of and opportunities for innovative approaches to combination treatments and how to handle patient access in terms of pricing and reimbursement. The EFPIA Oncology Platform, together with the other stakeholders is continuing the dialogue on this issue and looking for ways to facilitate access to combination therapies at national level.
Flexible access agreements
remove add
EFPIA Oncology Platform is aiming to raise awareness for the benefits and challenges of flexible access agreements and showcase examples of good practice. 
Accelerate time to patient access
remove add
The ambition of the "
Time to Patient Access
" project is to bring together diverse stakeholders in countries across Europe to jointly define the project approach, identify factors which cause delays, and co-create practical solutions that could accelerate time to patient access.
So much more to be done. Now is the time, there is a sense that we are approaching a period where political momentum in Europe is gathering behind better cancer care: Europe's Beating Cancer Plan. 
 
A European Cancer Plan must reflect the lessons of this new report. It should address prevention, screening, diagnosis, treatment and survivorship. It should address inequalities in access and outcomes. It should be a clear and actionable political statement about tackling cancer. And it should enhance collaboration among stakeholders.
 
We are excited about exploring new partnerships with new stakeholders, who are just as committed as we are to improving the prognosis for cancer patients.
To access more information on the work, publications and latest reports from the group, take a look at the downloads section.