Cancer and COVID-19 "Short-Term Reality, Long-Term Vision"
Online event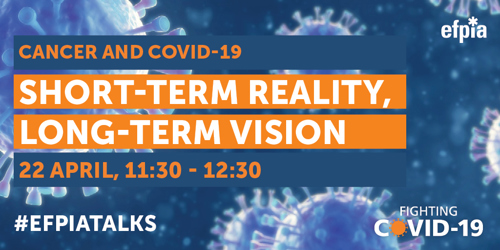 The EFPIA Oncology Platform is delighted to invite you to "Cancer and COVID-19 – short-term reality, long-term vision", the first of a series of virtual events focusing on the impact of COVID-19 on cancer care, that will be held on 22 April from 11.30 to 12.30 CEST.
Access to cancer care and treatments has become an issue because of the pandemic. Why is this the case, and what does the current situation mean for cancer patients in terms of access to care, new medicines, and timely diagnosis? And in the longer run: What will be the impact on Europe's "Beating Cancer Plan"?