Health Systems after COVID-19 - how can the industry contribute to strengthened resilience?
Virtual event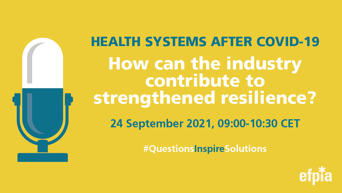 As Europe is now entering a new phase in the fight against the COVID-19 pandemic, we need 
to start reflecting on what this crisis has taught about the state of European health systems 
and European health collaboration, and what could be done better or differently in the 
future. In the effort to making health systems more resilient to future pandemics and other 
shocks, both public institutions and private stakeholders have an important role to play, and 
the fight against COVID-19 has more than anything taught us the value of close 
collaboration.


Building on a report by EFPIA and PwC on strategic directions for change in health systems 
after COVID-19, EFPIA is organising a virtual event to discuss the role of the industry in 
building more resilient health systems, and how public-private cooperation can be leveraged 
to make sure that innovative solutions are fostered and taken up by health systems across 
Europe.


Confirmed speakers include
- Hans Kluge, Regional Director of WHO Europe
- Dorjan Marušič, former Minister of Health, Slovenia
- Andrzej Rys, Director Health Systems, medical products and innovation, DG SANTE
- Susanne Schaffert, President of Novartis Oncology and vice-chair of EFPIA's Patient Access Committee