Unlocking the potential of the European Health Data Space to improve diabetes management in crises and beyond
Virtual event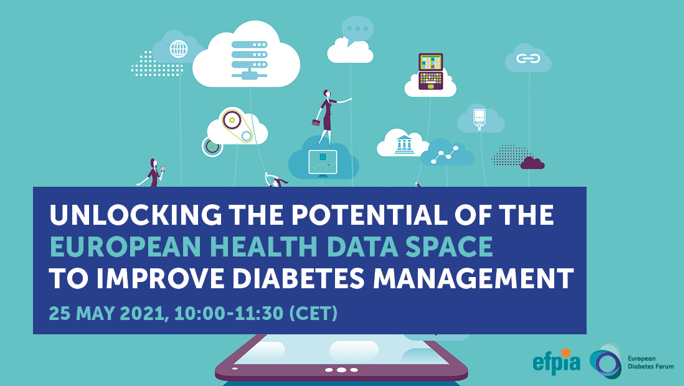 Managing a public health crisis effectively is not simply about controlling the spread of a virus. For people living with one or multiple chronic diseases, pandemics such as COVID-19 bring severe synergistic impacts, which require a more nuanced and comprehensive approach to how we manage diseases, particularly in times of crises.
The multidimensional threat created by the interaction between COVID-19 and other chronic diseases, such as diabetes, has illustrated the great potential of health data registries and the European Health Data Space (EHDS) to strengthen chronic disease management and health systems resilience. As the number of people living with chronic disease keeps growing, such efforts will be essential to protect the health of these populations – both during syndemics*, and in regular times.

Confirmed speakers include:
MEP Cristian-Silviu Busoi (EPP, Romania)
Jeannette Söderberg, European Research Director, JDRF International
Jaivir Pall, Co-Founder and CFO, Well Tech and advisor to the International Diabetes Federation (IDF)
Chantal Mathieu, Chair, European Diabetes Forum (EUDF)
Maurizio Guidi, Co-Chair, EFPIA Diabetes Platform
In this very timely webinar, our panel will deep-dive into questions such as:
What – concretely – is the syndemic threat created by COVID-19 and chronic diseases?

What has COVID-19 taught us on the potential of data registries for syndemic management and health systems preparedness?

What policy measures are needed to unlock the full potential of the EHDS to improve diabetes management and prevent complications?
Please join us for this discussion which will be the first in a two-part series co-hosted by the EFPIA Diabetes Platform and the European Diabetes Forum (EUDF), investigating the syndemic threat of COVID-19 and chronic diseases by using diabetes as a case study.
Register here
* A syndemic or synergistic epidemic is the aggregation of two or more concurrent diseases on a background of social and economic disparity, which exacerbates the adverse effects of each separate disease.