10th Strategic Conference Value of Innovation
Digital transformation for informed decision-making in healthcare
10th Strategic Conference Value of Innovation
Virtual event
For the 10th year in a row, Forum of International Research and Development Pharmaceutical Companies, EIG (Forum) is organizing a strategic conference, The Value of Innovation, where we seek answers to pressing questions and offer insight into innovations in pharmacy and healthcare.


This year, we will address the field of digitization and usage of data with distinguished speakers and guests. Progress in these areas means more comprehensive patient care, and in the long run it brings savings to the health system and significantly contributes to its resilience and ability to respond to crisis situations.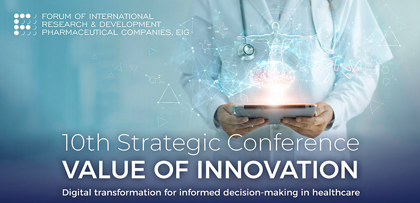 Nathalie Moll, Director General of EFPIA, will be participating as guest speaker and will be joined by other top domestic and foreign experts, who will discuss the digitalization of healthcare system, best practices in data collecting and usage, ways to make the most of this data in healthcare policy planning and how to provide best personalized treatment for patients. 


The honorary patron of the conference is the President of the Republic of Slovenia Borut Pahor.