WIN 2019 Symposium
Paris, France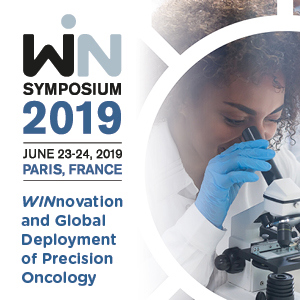 The WIN 2019 symposium dedicated to Innovation and global deployment of Precision Oncology will take place on 23 and 24 June in Paris.


Under the chairmanship of WIN's Chairman, Dr. Richard L. Schilsky, CMO of ASCO® and Dr. Razelle Kurzrock (UC San Diego), WIN 11th symposium will present an array of exceptional speakers, including Prof. Jennifer A. Doudna, inventor of CRISPR-Cas9 who will present a lecture on "Rewriting the Code of Life: CRISP-Cas9 Genome Editing"; and Dr. Jennifer A. Ligibel of Dana Farber who will discuss the importance of lifestyle strategies to cancer prevention.
WIN2019 symposium is the only event of its kind that enables all stakeholders of cancer care, from academia to industry, to present their latest innovations and advances.
Transformative Innovations in Precision Oncology Trials & Challenges of Experimental Therapeutics

Innovation in Laboratory/Preclinical models and IT Support Platforms

Disruptive Concepts and Innovation across the globe

Deployment of Precision Oncology
Join the symposium to hear diverse insights from the oncology landscapes across the world and the latest in clinical trials development, including WIN's WINTHER and SPRING trials.