Building an Evidence-Based Approach to Improving Cancer Outcomes (Guest blog)
The International Cancer Benchmarking Partnership (ICBP) is a multidisciplinary collaboration of clinicians, academics, data experts and policymakers, across six countries with comparable health systems – Australia, Canada, Denmark, Norway, Sweden and the UK. The aim of the partnership is to understand how cancer survival varies and crucially to explore why these differences persist. ICBP research uses a range of data sources and methods to explore factors that could be contributing to international survival differences. The ultimate objective is to provide evidence for policymakers and clinicians to improve outcomes for cancer patients.
ICBP research and findings
Analysis of 2.4 million cancer patient records showed that relative survival improved in all jurisdictions over this period. Survival is higher in Australia, Canada, and Sweden, intermediate in Norway and lower in Denmark and the UK (England, Northern Ireland and Wales).
5 year conditional survival for ICBP cancer types from 1995-2007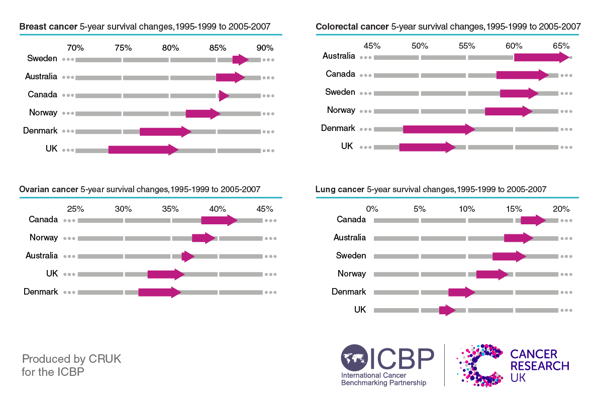 An internationally validated telephone survey on awareness and beliefs about cancer collected 19,000 responses from people over 50 years old across all six countries. The results show that while awareness about signs and symptoms were high and attitudes about cancer were positive, there is a low level of awareness that age is a risk factor. Further analyses of this rich dataset have shown that some sections of the population are less aware of risk factors and this has contributed to more targeted public awareness campaigns.
Using online patient scenarios we found differences in how primary care practitioners (PCPs) manage symptomatic patients between ICBP countries. PCPs in the UK indicated that they would be less likely to investigate a patient's symptoms at the first consultation. They also reported having less access to diagnostic imaging and advice from secondary care. While this was not found to explain why UK PCPs were less likely to investigate patients, it suggests that the system they are working within is not enabling them to investigate. In England and Wales, these findings have led to new initiatives to test innovative new diagnostic pathways.
Readiness of primary care practitioners (PCPs) to investigate low risk symptoms against 1 year relative lung cancer survival for ICBP jurisdictions
A further questionnaire-based study will soon report differences in intervals from the patient noticing symptoms to the start of treatment. This study, collecting information from patients, PCPs and specialists will illuminate variation in how symptomatic patients move through different health systems. The findings from this study will highlight areas for further improvement in diagnostic pathways, to mitigate any unnecessary delays in diagnosis.
Data and challenges
The studies above have produced great insight primarily because ICBP researchers have been able to analyse large international datasets. The main challenges in gathering large datasets such as these are time and resources, needing to develop novel analytical methods and better understanding of how data collections vary.
Throughout every part of the programme, the research has taken longer than initially anticipated. Unforeseen delays have arisen at almost every stage from ethics and information governance approvals to data analysis. Maintaining positive and constructive working relationships and a large amount of good will and willingness have been key to overcoming most issues as they have arisen.
One of the most time consuming activities, however, has been the execution of international survey based studies. These require time for intellectual collaboration and design, run at different speeds depending on the size of the population in each country and require large amount time to input and check data entry. In the next phase of ICBP research we will be making much greater use of existing administrative data where possible.
The ICBP has pioneered a range of methods and research tools to enable robust international comparisons. For example, a new algorithm was created so that different staging systems could be compared, and to try to fill in the blanks where data was missing. Missing stage at diagnosis information was highlighted as a particular issue for older age groups. The analysis emphasised the importance of having consistent and high quality data on stage at diagnosis to enable further insights to be generated. Having highlighted the high levels of incomplete stage data, a number of ICBP countries have focussed their efforts on improving the completeness of this data to enable more robust comparisons in future studies.
While cancer registries in all ICBP countries apply the same frameworks and rules to their data, ICBP researchers found that different definitions for date of diagnosis are used and different sources of data have an impact. These differences affect the comparability of analyses for 1-year survival. However, by understanding and measuring the impact of these differences, in future analyses adjustments can be made to ensure that these differences in practice are accounted for.
For more information on the ICBP and plans for further research please go to: www.icbp.org.uk