Health Collaboration Awards 2016: Together for Better Health, for us-by us
The EFPIA Patient Think Tank established the Health Collaboration Awards in 2015, to share best practice in collaborative projects that address healthcare needs. Entrants include collaborations between patient organisations, industry, local authorities, healthcare systems and other key actors in delivering healthcare.
The winners of the 2016 edition of the Awards were announced at the Health Collaboration Summit, which took place on 9-10 November in Brussels.
This week, we focus on the winner of The Health Collaboration Award: Together for Better Health, for us-by us.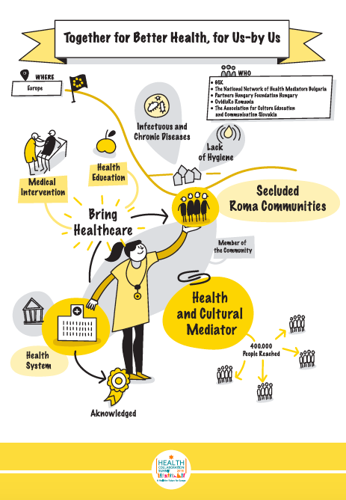 Campaign Project 
In 2012, GSK and four distinct NGOs from Bulgaria, Hungary, Romania and Slovakia, started a partnership to improve the health of those living in socially excluded and isolated Roma communities in Europe. "Together for Better Health", is supported by the GSK community partnership programme and the European Public Health Alliance. In September 2016, UNICEF joined the project for Serbia.
Key to this programme are 'health or cultural mediators', individuals from Roma communities who receive training in basic preventative and curative healthcare, and who act as a link between the communities and the (primary) health system. One of the major success factors for health mediators is the fact that they belong to the community for which they work. Essentially, they connect people living in secluded communities with doctors, help people to overcome prejudices (for example with regard to vaccination), provide clarity, and contribute to community development. The other key component of the project is the education of Roma children and communities in the areas of health and hygiene.
Specific programme objectives are to: support and embed the role of health and cultural mediators to improve the health of Roma, especially children, through education and medical interventions within Roma communities; ensure that health and cultural mediators are acknowledged and embedded in the national legal frameworks; and speed up sustainable access to available national and European funds. NGO partners all have experience in working with Roma communities across health and education. Leveraging their expertise and joint advocacy already had a positive impact on the health of over 400,000 Roma people. Local solutions have been developed from within the community, with health and cultural mediators, healthcare professionals and the education of children playing a pivotal role in linking the community with the public health system, while improving their health.
Patient Benefit from the Project and How it Was Measured
More than 400,000 Roma people have been reached so far and have received direct support that has helped deliver them to doctors/hospitals and screening, and to allow them to access (health) education, prevention, disease awareness, hygiene programmes and cultural integration. The project has improved access to basic healthcare and specifically to vaccination and education (how to wash hands and brush teeth). It has helped to provide glasses, get children to school, and ensure they can obtain fruit and vitamins, as well as treatment for scabies/Lice/HIV/Measles etc. It has provided for building toilets together and for complete checkups of communities, resulting in important referrals to GPs and hospitals. The activities and outcomes have been measured by the (health) mediators on a daily basis and by the NGOs involved, with joint measurements now being developed to better inform national and EU policies.
Through our partnership increasing numbers of people have been reached: It inspired the establishment of the Healthy Communities Programme with the Slovak government, , increasing the number of health mediators from 50 to over 300; health caravans in Romania were set up, with doctors and medical students traveling to secluded communities to provide checkups and referrals; the number of health mediators in Bulgaria has increased, as well as their positive social impact in Bulgaria (in crises situations such as flooding and social unrest); and mediating programmes have been established in Hungary, with communities deciding upon and implementing health and hygiene programmes.
Innovative Elements of the Project 
The project is truly innovative as it leverages the experiences, skills and pragmatic insights of NGOs from different countries, supported by EU NGOs and by companies with the aim of making a direct impact on the lives of Roma people living in secluded communities. Most specifically, this occurs through empowering and employing people from those communities and supporting the (health and hygiene) education of children and adults.
Our insights and experiences are used directly to improve the way that we provide support, as well to develop and provide materials to teachers, mediators and communities. Moreover we use our combined insights "from the field" to inform national policy development and funding to create sustainable networks of health mediators and (health and hygiene) education. The shared insights amongst the partners have already had a significant impact on national policies (recognition, funding, selection, education of health mediators) and legislation. We have provided input to Commission surveys and were participating in international conferences and platforms, to help direct policy and funding to the real needs of the secluded communities.
Collaborative Elements of the Project
Experienced NGOs from different countries share and leverage their direct experience in helping Roma patients in secluded communities through health mediators and education, as well as finding ways to inform national policies and attract national and EU funding. These NGO s are supported in EU outreach and policy development by the EPHA. GSK provides structure, funding and national support, both managerial as well as in communication. Besides that, the program is supported by GSK Pulse Volunteers, dedicating 3-6 months full time to support the project.
The programme is chaired by one of the NGOs in rotation for a period of nine months and supported by GSK. We meet face to face once a year in one of the participating countries, to learn in practice by visiting secluded communities. We also hold events with national stakeholders, to share and inform pragmatic policy development. We have 3 virtual meetings per year through videoconferencing from GSK national offices. The meetings have recurring elements: share activities best practices over the last 3 months, share plans forward, highlight specific concerns/ issues that need support. Relevant EU events, policy development and funding opportunities are presented and discussed at each meeting. We have now embarked on common programmes that are implemented simultaneously in all participating countries, inspired by the GSK PHASE project, developed to improve hygiene in underserved communities around the world.