At the crossroads of health inequalities in cancer (Guest blog)
A blog by Gabriele Grom, Associate Vice-President CEE, MSD, based on a speech during the 7th Presidency Conference of the European Alliance of Personalized Medicine (EAPM) in Brussels.


Living in Vienna I am at the crossroads of Eastern and Western Europe. Being responsible for MSD's operations in CEE, I can see every day that health inequalities are not just political talk but a reality.


We have made great progress in cancer care: Less people die of cancer than 20 years ago. (Jönsson B. , Hofmarcher, Lindgren, & Wilking, 2016) Innovation in prevention, screening and diagnostics as well as treatments have helped to that less people die of cancer than before.


However, not all EU citizens benefit in the same way. In Austria, innovative cancer treatments are available nearly immediately after approval of the European Medicines Agency (EMA).


Patients in the Czech Republic wait three times longer than in Austria until a newly approved cancer medicine is available. (European Federation of Pharmaceutical Industries and Associations (EFPIA), 2019) In Poland, only 3 out of 10 newly approved cancer medicines are available while in Austria it is nearly 10. At the same time, survival rates are much lower in Central Eastern Europe: Only 4 out of 10 cancer patients in Bulgaria survived 5 years. (Jönsson B. , Hofmarcher, Lindgren, & Wilking, 2016) That's 20 percent less than in Sweden.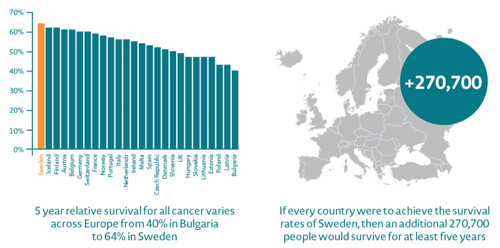 Why these differences? Is it due to the economic strengths of these countries, or political willingness? Income and economic wealth is lower in CEE than in other parts of the European Union. The GDP per capita in Hungary, Poland or Romania is indeed more than 30% lower than the EU average. (Eurostat, 2018) However the CEE countries are among the fastest growing economies in the European Union. Poland's growth rate in 2018 was twice as high as the EU average. (Eurostat, 2018) At the same time their spending on health as a share of GDP is much lower too, in some cases half of what the EU average spends. (OECD, 2018) (1)


Good health depends very much on whether health and healthcare are a priority for the government and the society. Only healthy citizens can contribute to economic growth in the long run. Health and wealth belong together. (McKee & Suhrcke, 2010) It is encouraging to see that the Presidency trio – Romania, Finland and Croatia – recognized this and included the "economy of wellbeing" in their work program. (Council of the European Union, 2019)


What else needs to be done?

Make cancer care a priority in health care. Cancer is set to become disease burden number one in Europe due to ageing and lifestyle. (Jönsson B. , Hofmarcher, Lindgren, & Wilking, 2016)

Invest sufficiently in health – prevention, diagnosis, screening, the care system and in people and patients, i.e. health literacy.

Adapt the patient access processes to secure timely patient access to innovation. Today's cancer treatments are much more complex. (IQVIA, 2017) The EFPIA Oncology Platform addresses this as a priority objective.

Finally, ensure that patients with a diagnosis have fast access to treatment. Even in Western countries, for example, exist large variations with up to 30 percent of diagnosed patients in late-stage lung cancer being untreated. (Carrato, et al., 2014) Many more lives could be saved if treatment guidelines would be followed.

Some countries have worked together with industry on innovative access schemes. Thanks to these agreements we were able to reduce time to access dramatically. At the same time, we have agreed on a predictable budget framework to make patient access sustainable. Innovative treatments in cancer may add in Belgium over 6000 life years over the next five years. Thanks to innovative agreements which provide earlier access, the life years increased to 11000. (van Bavel, et al., 2018)


Improving health outcomes is a joint responsibility and requires collaboration amongst all stakeholders in health. We must act now to ensure that health inequalities between Eastern and Western countries do not become bigger in the future. Policies and policy makers play a critical role to provide the right frameworks. Frameworks which ensure that every citizen in Europe has equal access to high quality health care.

(1) In Belgium, 10 of 100 Euros goes into health care. In HU, PL or RO it is only two third or only half of it.