Fostering the adoption of new clinical trial design supported by digital tools
For the eighth blog in our series looking at the story behind the EFPIA manifesto, Silvia Garcia, Senior Manager and Sini Eskola, Director of Regulatory, Drug Development and Manufacturing at EFPIA look at the case of making Europe a world leader in clinical research by fostering the adoption of new clinical trial design supported by digital tools and speed up implementation of the Clinical Trials Regulation 536/2014 to remove duplicative processes between Member States. This includes assessing whether the regulatory framework for the research-based pharmaceutical sector is fit for purpose via Better Regulation.
Our ambition is to improve Europe's access to innovative medicines and to contribute to a healthier future for Europe with the use of digital solutions in clinical trials (e.g. remote trials and sensors), including digital patient engagement solutions and use of digital biomarkers as clinical endpoints.


EFPIA performed in the end of 2017 a survey on the use of digital tools to understand how EFPIA member companies are using or planning to use digital tools and what the barriers and issues there currently might be. Conclusion was made that almost all companies have used or plan to use wearables and sensors in conduct of a trial or combined with a medicine already on the market. 94% respondents described the biggest barriers related to technology or software issues, absence of regulatory guidance at Member States level and vendor issues.


We believe that the communication made public by the European Commission to the European Parliament last April 2018 to put efforts in to empowering citizens and building a healthier society by enabling the digital transformation of care and care in the Digital Single Market is an important landmark demonstrating political will.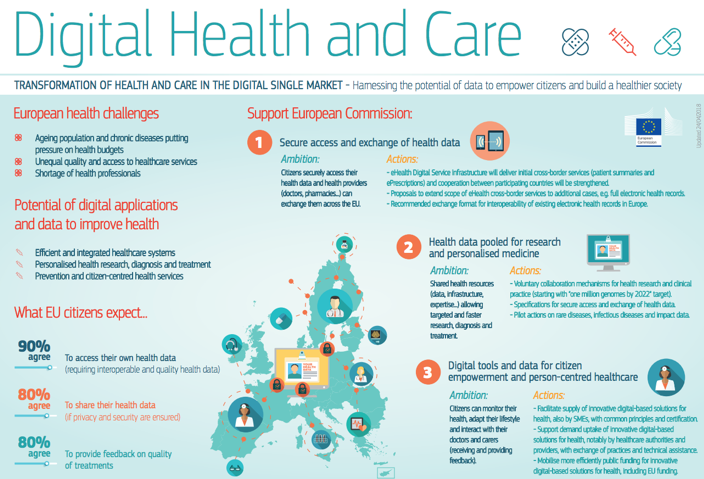 We are ready to build on the political will to empower the citizens in their own healthcare and are currently developing a comprehensive Clinical Trials Strategy that will highlight four priority areas: 1) Increase societal support and trust in clinical research, 2) Empower patients, 3) Patient-centric innovation by design, 4) Scientific and technological innovation on trials. We see a paradigm shift in our vision from product centric to patient centric approach. Next week we are discussing the vision and approach with patients and patient organizations represented in EFPIA-EPF Patient Think Tank get their perspective on where to prioritise and focus. Our draft vision on Clinical Trials Strategy is:


"Europe can take a leading role in modernising clinical development by enhancing the patient's experience of clinical trials and seamless integration of technologies with the overall aim of accelerating the development of innovative medicines."


Successful strategy is often built on already existing knowledge and we should not forget about the major collaboration projects already developed or envisaged by EFPIA, such as ADAPT SMART IMI initiative, Remote Decentralised Clinical Trials and Integrative Patient Screening Initiative (IPSI) project.


At EFPIA we are highly motivated about making Europe a world leader in optimising patient-centric clinical development by the use of digital tools in clinical trials and to improve the access of innovative medicines equally for all patients.