Making the connections that count: building bridges to the future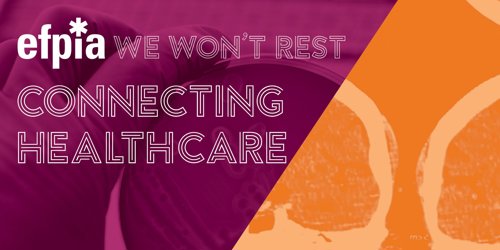 With the challenges facing Healthcare in Europe I am pretty certain no one sector has all the answers. Everyone in healthcare and health research shares the goal of improving the lives of patients. If we can work together right across the patient journey to improve outcomes that really matter to patients then there is great potential to address the challenges. It's about partnership and collaboration. It's about making connections.


What does this mean in practice? How does our shared desire for collaboration translate into innovation, research, and regulation?


We've been thinking about these issues for a while now and it is vital that we come together to explore the opportunities – and barriers – that arise as we navigate uncertain waters. That's why the theme of this year's EFPIA 2019 Annual Conference is Connecting Healthcare.


It takes place at a time of significant change in Europe – against a backdrop of the UK leaving the European Union, the handover between the Romanian and Finnish Presidencies of the European Council, and the dawn of a new political cycle in Brussels. It also marks a new chapter for EFPIA as UCB's CEO, Jean-Christophe Tellier, takes up the reins as our new President.


The conference brings together patients, regulators, policymakers and researchers, as well as senior leaders from the healthcare community, medicines industry and key policymakers. It is an opportunity to make connections that can advance patient care, regulatory science and support economic growth in Europe.


Fortunately, we are not starting from scratch: many actors in the healthcare system have been building networks and coalitions and are ready to take it to the next level. We can also take inspiration from those who have successfully managed to build bridges between a broad range of stakeholders.


Some of the best examples of collaboration can be found in the field of health research and innovation. Take the Innovative Medicines Initiative (IMI). Now with more than a decade's experience under its belt, and a growing body of valuable projects completed or under way, it is a great example of collaboration – between the public and private sector; between companies; between patients, academics and industry.


The conference will hear from the IMI leadership about the impact it has made and the future role of public-private partnerships in connecting healthcare stakeholders with a view to making Europe a world leader in medical R&D.


We'll also learn more about the EU Health Coalition and its mission to co-create a sustainable future for European health systems. In its detailed recommendations, the Coalition set out 20 concrete actions that will help us to build a healthier future together. At our June event, I look forward to taking stock of the progress made so far and hearing more about how we can realise this blueprint for European healthcare in the next institutional mandate.


I also look forward to hearing from the European Medicines Agency, the Finnish Presidency, and patient advocates about the connections they see as vital to delivering better outcomes.
And as ever with this kind of large gathering, I look forward to being surprised! Because, no matter how much we plan and prepare (and, believe me, our team is hard at work on this!), the beauty of the Annual Conference is the new ideas, new people and new connections it inevitably brings.
Let's connect at the EFPIA 2019 Annual Conference – 27th June 2019, the Radisson Blu Royal Hotel, Brussels, see you there!


If you are interested in attending the conference, please send an email to communications@efpia.eu. 

Find out more.