Now my daughter gets the chance to go to school (Guest blog)
In the summer of 2016, Norman and his family returned to the Netherlands after a long stay abroad. Their youngest daughter Louisa, eight months old, suddenly becomes very ill. At first they thought she had a flu, but doctors at the Sophia Children's Hospital soon made a different diagnosis: Louisa has acute lymphoblastic leukemia (ALL).
The girl in the photo is not Louisa. The story was originally published here.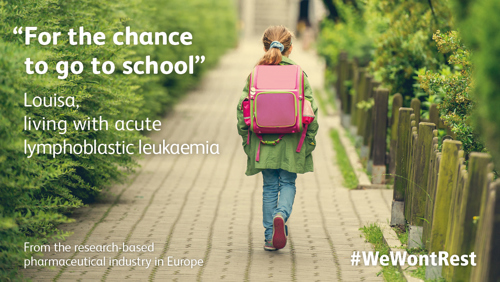 Moving train
Norman: "On top of all that, Louisa appeared to have a very rare form of the disease. Children younger than one year have a greater chance of abnormalities in the so-called MLL gene. In that case, treatment is more difficult and the chances of healing decrease considerably."
"You feel like you are jumping on a moving train. Everything is recorded in protocols. Louisa fell under a two-year treatment program, with a relatively intensive chemo trajectory; she had to stay in hospital for the first two months. The day after the diagnosis, she had her first course of chemo treatment. Only after a few months did we realize: that this is really a long-term illness, it won't just be over. The process is exhausting."
Side effects
"In general, you can say that it went reasonably well. But there were complications. She reacted very poorly to a number of cytostatics, and  tolerated others better. Also, she suffered during her chemo treatment as a result of  infections. As her resistance was minimal,  her body couldn't handle bacterial and viral infections properly. There were phases where she was in complete quarantine."
Survive
"Life around you stands still. The only thing that matters is taking care of your child. But we also had two other children, our three-and five-year-old daughters. They had just returned from England and had to build their lives in the Netherlands. We consciously chose to keep their lives as normal as possible. They would go to school, to swimming lessons, and to friends. During the first period my wife was at the hospital full time, and I was there as much as possible during and after work. "
Recurrence
"In September, Louisa was allowed to switch to a less intensive treatment. The signs were hopeful; no leukemia cells were being detectable anymore. But in December we received the message that we all feared. The bone marrow and lumbar puncture showed that the leukemia was back. The fact that this recurrence was happening during the treatment process itself was not a good omen. Unfortunately, leukemia cells were also traced in the brain fluid. "
Customization
"Then you suddenly find yourself in very uncertain area, without protocols and plans. The only option we had in the Netherlands was a bone marrow transplant. The only question was whether that treatment would be effective for Louisa, because she was severely weakened and there were leukemia cells in her brain fluid. Moreover, in her case the chances of success were low. We had many conversations with doctors about a bone marrow translate, but we didn't feel good about it. "
Immunotherapy
"Our treating physician then pointed us to experimental treatment at the Children's Hospital of Philadelphia: CAR T therapy. Here children with ALL are treated with CAR T cells. This is a one-time treatment in which a patient's own immune cells, the T cells, are taken and genetically altered in a laboratory so that they can recognize and destroy the CD19 positive leukemia cells. We were delighted that  Louisa was assigned a place in an ongoing clinical study. It all went very quickly and we were on the plane for an intake interview. "
Philadelphia
"The treatment team decided that Louisa's T cell intake would take place in the Netherlands, at the Wilhelmina Children's Hospital in Utrecht. The T cells would then be sent to the United States. There, the Children's Hospital of Philadelphia spent six to eight weeks modifying her T cells. And then, in May 2018, the big moment had arrived: reclaiming the adjusted T cells. We moved with the whole family to Philadelphia for her treatment. Fortunately, her situation had not deteriorated very much in the meantime. "
Exciting
"Of course, the moment that her processed T-cells were replaced was very exciting, but the treatment itself is not that big. For Louisa it was a single injection. And luckily for her, apart from a minor fever, there were no side effects. I'm still surprised at how easy it went. If you see what chemo does to your body and if there is an alternative that seems to work well for my daughter, that's good news. We also realize that Louisa has been incredibly lucky; the treatment does not work well for half of the patients. "
To school
"We have just returned from one of her checks in Philadelphia. Louisa is now one year and three months cancer free. She has a full head of hair again, is full of growth and is enjoying life to the full. In March 2020, she will go to kindergarten. We never dared hope for that. With the CAR T therapy, a whole new world has been opened for her. Before she had to be very protected from everything because of the risk of infection, now she can go to a supermarket or restaurant for the first time. She is developing enormously, both mentally and physically. "
Future
"The processing actually only comes now. As a family we are trying to pick up the thread again. But uncertainty remains. I have fears like every parent of a child with cancer has. You can never say that it is completely gone. But every quarter that we have good news means a longer period of being cancer free. Every day we are grateful that we have been given this opportunity. We never dreamed that she would respond so well to this.