Stories from the frontline: This is an ideal time to share knowledge and skills, especially when we have a common goal: stop the COVID-19 spreading (Guest blog)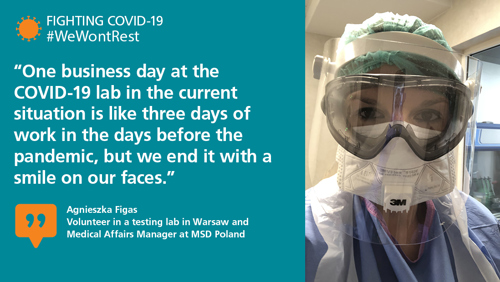 Agnieszka Figas is a Medical Affairs Manager at MSD Poland. Last month she decided to put her background in the fields of virology, biotechnology and laboratory diagnostics of viral infectious diseases at the disposal of the MSD volunteering programme fighting the pandemic by supporting a newly created laboratory in Warsaw performing tests on SARS-CoV-2.
Agnieszka joined the COVID-19 laboratory created by a team of volunteers with medical backgrounds from different scientific institutions and companies in Warsaw (Poland). The group first prepared the laboratory for coronavirus testing to address the needs of Polish hospitals. The laboratory team first needed to prepare equipment, check testing accuracy and start validation processes. The laboratory has now been operational for one month performing full-time COVID-19 diagnostics for patients and HCPs.

Explaining the reasons behind her decision to volunteer, Agnieszka said this is the right time for health professionals to share knowledge and skills, especially in light of the common objective to halt the virus.


"I am happy that MSD is truly engaged in supporting patients and the healthcare system with this volunteering programme," said Agnieszka. "I found it truly valuable, especially faced with the reality in which we all currently operate."


Working in the COVID 19 laboratory is both demanding and a challenge due to pressure of time, the complexity of the testing process, the quantity of samples analysed and number of patients and HCPs waiting for results before deciding on further action.


"One business day at the COVID-19 lab in the current situation is like three days of work in the days before the pandemic," said Agnieszka, adding: "But we end it with a smile on our faces."  


A graduate in Medical Diagnostics from the Medical University in Poznan with a PhD in medical science and a degree in Biotechnology from the University of Warsaw, Agnieszka joined MSD Poland three years ago and is currently a Medical Affairs Manager dedicated to vaccines. Her background is thus perfectly suited to dealing with this pandemic.


"Vaccines and their impact on public health have become an even more  important topic in the age of the pandemic," said Agnieszka. "What would a prototype of the world look like without immunisation? The answer is, Pandemic SARS-CoV-2 AD 2020."