Stroke care: sharing the recipe for better outcomes
The Angels Initiative won the Service Delivery Award 2018

Consider this: in the next hour, two people in Europe – who could have been saved by better stroke care – will die or suffer life-changing disability. These are two preventable catastrophes.
Stroke outcomes can depend on which hospital the patient attends. If the hospital is 'stroke ready', a multi-disciplinary team will quickly assess and treat the patient in line with defined protocols. This gives the patient the best chance possible of returning to the life they knew before their stroke.
Being treated in the 'wrong hospital' can have a devastating impact. On average, stroke is the second most common cause of death in the world and the third leading cause of disability. But averages can be misleading. In reality, rates of death and disability due to stroke vary widely between and within countries.
Mortality rates of around 35% are the norm, yet some hospitals achieve rates as low as 10% while others record 50% mortality. Stroke is about more than survival. In hospitals that are not 'stroke ready', half of all stroke patients either die or are left with permanent disability requiring continuous nursing care. In leading stroke centres, this rate has been reduced to 30%.
Stroke is a heavy burden for survivors and families. There is also an economic toll. Stroke costs Europe around €64 billion euro – but this can be significantly reduced through optimal care: severe stroke is five times as expensive to treat than mild or moderate stroke.
More, better stroke centres
The Angels Initiative is a collaborative effort to increase the number of patients treated in stroke-ready hospitals, and to optimise the quality of treatment in all existing stroke centres. Initiated by Boehringer-Ingelheim as a non-promotional project, and backed by the World Stroke Organization, the European Stroke Organization (ESO), the Stroke Alliance for Europe (SAFE), along with institutional and academic partners, it is raising standards across Europe and around the globe.
The initiative was first launched in developing countries – South Africa and India – where fewer than 1% of patients receive guideline-recommended treatment. However, close examination of the situation in developed countries revealed surprising gaps in European stroke care. In fact, just one in three stroke sufferers in Europe are treated in a stroke unit. One in three!
In response, steering committees were established in 13 European countries, with support from national stroke organisations, as part of a continent-wide drive to make optimal care available to all.
'In Europe, we want to create a community of 1,500 hospitals which are stroke-ready,' says Valeria Caso, European Stroke Organisation. 'The Angels Initiative sends consultants to hospitals to understand what they need to become stroke ready. Then they work with the hospital to optimize the care they provide.'
Angels is one of the three pillars of the ESO quality improvement initiative and was rigorously evaluated. More than 2,100 hospitals have already enrolled in the project. With each centre treating around 450 cases per year, close to 1 million stroke patients will benefit from higher standards of care.
The initiative is a catalyst for the establishment of stroke units across Europe: in Romania, five stroke-ready hospitals were established between 1996 and 2016. Today, that number is 46, thanks to local engagement with the Angels Initiative.
Collaboration is at the heart of initiative. The active participation of pharmaceutical companies, notably Boehringer Ingelheim, and technology start-ups such as Brainomix, ensures access to expertise and innovation. Brainomix offers its AI-based software to participating hospitals free of charge for six months. The system, which can detect stroke damage on CT scans of the brain, can be used to inform clinical decisions and to train doctors to interpret scans.
Michalis Papadakis of Brainomix says hundreds of hospitals have already taken the no-strings-attached offer to use the system. 'Hospitals who have used it see the value of the software for training and in the clinical pathway,' he said. 'It gives them confidence to make faster and better treatment decisions.'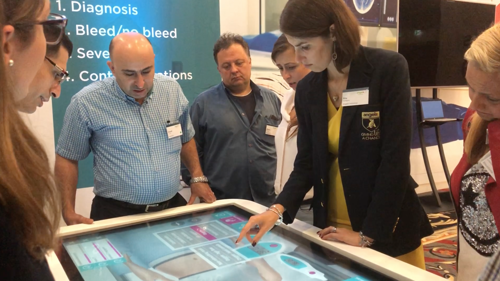 Patient centricity
While clinical protocols are at the heart of the Angels Initiative, the project keeps the patient at the centre. Jelena Misita of Stroke Alliance for Europe (SAFE), which joined the collaboration in 2018, says communication with patients and their families is essential to improving outcomes for survivors. SAFE has translated and distributed five brochures into 13 European languages. The brochures are helping to improve the quality of doctor-patient communication.
'Patients can ask informed questions about their specific needs and prepare for the future,' she says. 'Communication is a two-way process: both sides can influence the outcomes of treatment and how patients fare when they leave the hospital.'
Looking ahead, Angels will continue to push for more and better stroke units across Europe. It has, says Jelena, become bigger than a short-term initiative to address inequality of outcome: 'This is not a project, it's a movement.'