Unlocking New Insights to Improve the Health of Patients (Guest blog)
In healthcare, the data may come from multiple sources and may be collected by both healthcare professionals and patients, but digital technology can help us to gather and evaluate the available data, wherever it comes from and is stored, in line with the applicable GDPR rules and other laws as appropriate. This data may then be used to generate greater insights to advance the design, development and distribution of better medicines and improve patient care, to better serve the needs of patients.
Technology can connect data stored in multiple places. Just as we can use the internet to process answers to questions based on all available sources, we can use technology to assess all available data about a disease, to improve our understanding and design new ways to intervene and disrupt the disease progression. Digital technology may also allow us to predict who is at risk of disease and intervene to prevent that disease arising in the first place. It can also enable personalised medicine to deliver healthcare suited to the particular needs of the patient. In many healthcare settings one of the most powerful insights can come from patients with the disease. As designers of medicines, we need to understand what living with the disease is really like, what symptoms we are trying to treat, and we must design the clinical studies that we run in a way that accommodates patient's lives. Technology can facilitate this by allowing more active monitoring of a patient in their daily lives, often resulting in fewer visits to a healthcare setting needed to collect this data. Many of our interactions with doctors are now by phone or online and since COVID telehealth has become common in many countries, enabled by digital technology.
Companies that make medicines want to ensure that their products are of the highest quality and they therefore monitor quality throughout the production process. Many of these checks can now be automated and the data gathered and analysed to see trends before any issues arise. When we shop for things online, we now all expect any parcels to be delivered rapidly and just like any supply chain, companies that make medicines want to meet the needs of our customers when they need access to those medicines. With a connected data system, we can monitor and predict where medicine supplies are getting low and then track delivery of the medicine from the warehouse all the way to the pharmacy or patient.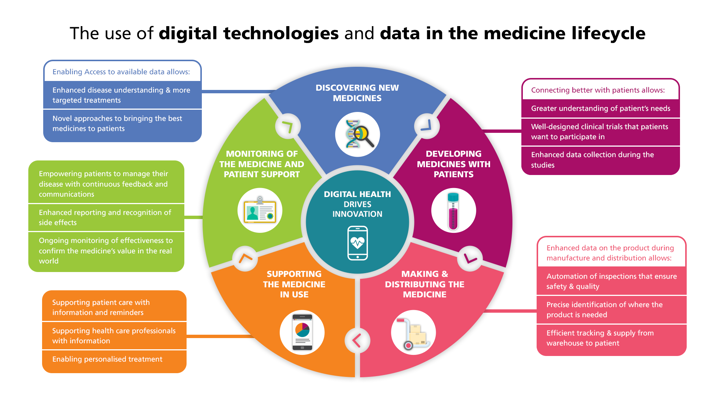 Once a patient has access to their medicine, we want them to have the right support to take their medicine correctly and get the most benefit from it. Technology can provide the patient with immediate information about their medicine and how to take it, they can be prompted to remember to take their medicine, and technology may offer broader support such as helping them to keep a record of how they are responding to treatment or to report any side effects and even to share this information live with their doctor so they can propose any changes. For Governments and those that pay for medicines they want reassurance that a medicine remains effective for a particular patient and that it therefore continues to offer value and should continue to be supported and so this data may also be valuable to them.
Patients are waiting for us to develop better medicines to treat and manage their diseases. Through the use of digital technology, we can make best use of the available knowledge and data to drive innovation and deliver novel approaches to bringing the best medicines and healthcare to patients.

Find out more here.