#WeWontRest until all Chronic Obstructive Pulmonary Disease (COPD) patients have access to the best possible healthcare
Maarten Voorhaar, Market Access Manager at Boehringer Ingelheim and PhD researcher at Maastricht University:
"#WeWontRest until all Chronic Obstructive Pulmonary Disease (COPD) patients have access to the best possible care, tailored to their individual needs, aimed at maximizing what a patient can and is willing to do."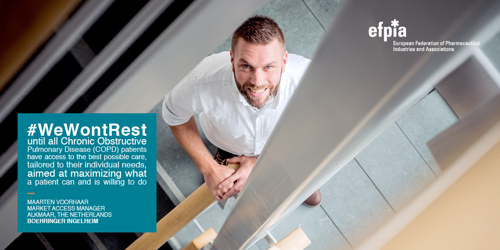 Pharmaceutical companies are tackling the challenge they face to provide the best possible healthcare for COPD patients not only by developing innovative and increasingly effective medicines but also by setting up innovative healthcare projects and encouraging self management. This combination is expected to maximise the effectiveness of medicines.
In this context, the pharmaceutical company Boehringer Ingelheim has for years been using a strategy that links the development of effective medicines with active dialogue with all possible healthcare partners and the taking of responsibility for the improvement and optimisation of healthcare. For example, there are medical professionals working at Boehringer Ingelheim who provide training to doctors and practice nurses in this field. The company also sponsors initiatives such as a medication wastage project, supports awareness campaigns and cooperates intensively with patients' associations to improve healthcare. It has, furthermore, contributed to the realisation of a disease burden tool for COPD patients. This tool enables patients to identify and list all their healthcare needs so that healthcare objectives can be drawn up in cooperation with healthcare providers. The above illustrates that the company focuses on a much broader terrain than simply that of producing and selling medicines.


One of the professionals at Boehringer Ingelheim is Maarten Voorhaar, Market Access Manager and PhD researcher at Maastricht University. He is working on a project that focuses on self management. Voorhaar: "Patients differ in terms of what they are willing and able to do, which is why they have to look for what suits them best, together with their doctor. They will then realise that, together with the correct medicines, self management can also contribute greatly to their health. The degree to which you are in control of your disease can alleviate the burden it causes.''


Sitting on the sofa at home with the correct blood levels as a result of medication but not getting enough exercise can lead to more dependence on your medication. Maarten Voorhaar uses this example to illustrate where, as far as he is concerned, the shoe pinches. "Patients should be taking a more active role in their healthcare and doctors must want to share the responsibility for that healthcare. By that I do not mean a physically active role but taking things into their own hands, taking the initiative, being proactive and cooperating on objectives drawn up jointly. That is, more self management. Achieving biomedical objectives, such as compliance or optimum blood sugar levels in people with diabetes, must not be the ultimate outcomes.


Achieving patient-centred health objectives should be a requirement – and that goes beyond what medication can offer.


Inactivity, for example, has a negative effect on mental, cognitive and physical health. Look at the increasing incidence of overweight, a problem that is often dependent on behaviour. Sometimes people sit around the whole day or are satisfied if they exercise for 15 minutes a day. But medicines alone are not the answer. Ultimately, the value of healthcare and medicines is determined by what they yield for patients and society. We can take big steps, but we have to be prepared to change the organisational aspects of healthcare and how we approach and activate patients. Insurers, healthcare providers, healthcare group managers and patients must look for the joint interest together. As a pharmaceutical company, we are keen to take the lead in getting these parties to work together to this end.''


Recent research (Patient and Disease Characteristics Associated with Activation for Self Management in Patients with Diabetes, Chronic Obstructive Pulmonary Disease, Chronic Heart Failure and Chronic Renal Disease: A Cross-Sectional Survey Study) shows that patients with a chronic condition can be divided into four categories. Voorhaar: "Based on this categorisation, around 15 per cent are easily able to manage their own situations and influence their disease burden positively. The category below this 15 per cent, around 30 per cent, can self manage if encouraged to do so by means of active supervision. In the first instance, therefore, attention should be focused on this group, because this is where most benefits can be realised. It must be possible to achieve behavioural changes by strict, long-term supervision and intensive coaching.''


Asking the right questions
Maarten Voorhaar is currently working on a questionnaire for patients that should provide insight into the psychological aspects and patients' behaviour with regard to their diseases, the intention being to give healthcare professionals some good points of reference. "In practice, we sometimes see practice nurses weighing up matters themselves in individual cases because they know the patient in question, but this is not evidence based. You can only discover and decide whether, for example, the disease burden tool or E-health applications might be suitable for a specific patient, by asking the right questions. By making this questionnaire available to healthcare providers in due course we, as pharmaceutical company, will be contributing directly to improving the healthcare and wellbeing of patients. We are also committed to continuing with these developments until all COPD patients have access to the best possible healthcare – partly by producing innovative medicines but, above all, by listening to and motivating patients so that the effectiveness of these medicines can be maximised.''