#WeWontRest until cancer patients and their families look to the future with hope rather than fear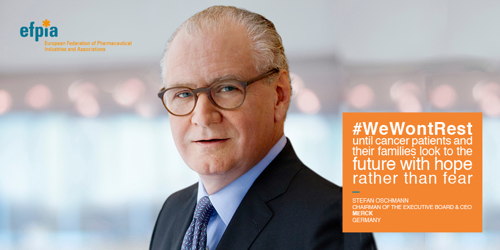 One of Merck's greatest priorities is to work towards changing the perspectives of cancer patients and their families, moving from a future tainted by fear to one brightened by hope. We are backing up these words with real actions – here are just a couple of examples.


Bringing patients into the conversation
Our first port of call is always patients themselves. They know better than anyone the needs that remain unmet. Our mission is quite unique: as we want to be patient directed, that involves listening to patients' perspectives, taking action on that basis, and incorporating their feedback across the R&D and commercialization continuum. In short, patients drive our innovation agenda, notably in the oncology field.


Merck is meeting this challenge head-on by convening an annual "Patient Summit". The initiative brings together global patient advocacy groups, patients, carers and Merck's senior leadership to exchange on relevant topics across various disease areas, including oncology. These discussions have already enabled Merck to establish entirely new patient-directed initiatives.


Of course, we cannot hope to change patients' outlook on the future without also hearing from their carers – so often their families. We have thus launched Embracing Carers, an initiative aiming to raise awareness and drive a call to action for support of carers worldwide. This has taught us much about the ecosystem in which patients' lives are lived and the realities faced by all involved – patients, their families, loved ones and caregivers. Earlier this year, this project received the 2018 Most Influential Patient Advocacy Initiative Award from the World Congress and Wego Health.


Innovating for a better future
The core of our work will always be the development of pharmaceutical innovations. Most recently, Merck invested heavily in finding a treatment to Merkel cell carcinoma (MCC), a rare and aggressive skin cancer. Survival rates for MCC are horrendously low, and we are committed to giving MCC patients a future they can believe in.


Last but not least, we want to make Europe a global leader in clinical trials for new medicines. This is why, under Merck's leadership, EFPIA has launched the Integrative Patient Screening Initiative (IPSI). Bringing together pharmaceutical companies, investigators, regulators and patients, IPSI will establish a common platform for sharing of screening and biomarker results with the aim of ensuring that all cancer patients in Europe who are screened for a precision clinical trial, but not enrolled, will be offered the opportunity to be enrolled in alternative programs.


Developing innovative medicines making a meaningful difference to people living with cancer remains our number one job. But we cannot do it without the involvement of the people for whom we make these medicines. This is why we will continue to base our approach on people and will not rest until we see hope – not fear – in the faces of our patients and their families.