#WeWontRest until people with rare diseases get faster access to medicines, based on innovative access models and use of real-world evidence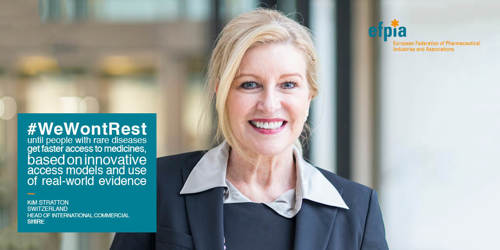 Rare diseases are among the toughest and most complicated of diseases. They are often severe, debilitating and can lead to early death.  Most are genetic and start at birth or in childhood and, sadly, an estimated one in three children born with a rare disease does not reach their fifth birthday.
For people with rare diseases, speed matters, as delays to treatment can lead to serious consequences. Although the EU Orphan Regulation has created incentives leading to significant new research, clinical trials and treatments, barriers to patient access at national level remain.
Moreover, today's pricing and reimbursement assessment processes for rare disease medicines can lead to substantial delays or failure to gain access for patients. Processes often do not take into consideration that standard health technology assessment criteria are not designed for rare diseases.
This is why Shire is advocating for new approaches in the evaluation of rare disease treatments and evidence generation. We want to enable access for patients at the time of regulatory approval, in as many countries as possible, via a process of 'Immediate Access with Conditional Reimbursement'. This approach has already been successfully implemented in France and Germany.
We are also working with our partners to improve patient access to rare disease medicines by designing innovative approaches that will accelerate access using Real-World Evidence (RWE). For example, Shire is a partner in the multi-stakeholder 'Trust for Rare Diseases' (TRUST-4RD) project led by the Belgian payer RIZIV-INAMI. TRUST-4RD aims to build trust and facilitate early dialogue in adaptive payer models between HTA bodies and ministries, regulators, patient representatives, clinicians, clinical research bodies and industry. The goal is to address uncertainties for all stakeholders with a specific focus on rare or complex diseases that require highly specialized treatment.
Now is the time to accelerate change and bring new hope, help and progress every step of the way for people with rare diseases.


Kim Stratton
Kim joined Shire in 2013 and is Head of International Commercial. She was previously Global Head of Group Country Management & External Affairs for Novartis. Prior to that, Kim held various roles of increasing responsibility at Novartis, Bristol Myers Squibb and AstraZeneca. She qualified as a State Registered Nurse at the Royal North Shore Hospital, Australia.