EFPIA working with Ukraine on EU accession and medicines and vaccines regulatory alignment and patient safety issues
Representatives from the European Federation of Pharmaceutical Industries and Associations (EFPIA) today met in Brussels with a high-level Ukrainian government delegation, led by Maryna Slobodnichenko, Deputy Minister of Health for European Integration.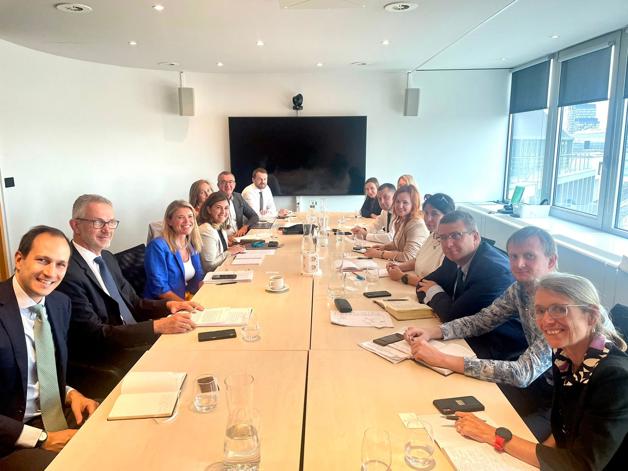 As well as exploring how the research-based industry can continue to support Ukraine through donations of medicines and financial support to NGOs, discussions centred around supporting Ukraine with regulatory alignment in order to become a full Member of the EU. From a medicines perspective that meant focusing on the following key issues:
The continued commitment of EFPIA Members to operating in Ukraine and to provide timely and effective treatment to patients.

The need for transparent and efficient regulatory processes in order to ensure that products reach patients faster;

The creation of an independent regulatory agency that ensures transparent, streamlined and efficient regulatory approval processes. Industry also supports the establishment of an independent HTA body to provide independent recommendations on financing and reimbursement of treatments. EFPIA offered to connect the relevant Ukrainian authorities with EFPIA's large network of national associations and regulatory experts, who could provide insights and experience on the functioning of regulatory agencies and HTA bodies in EU Members States.

The restarting of Clinical Trials in Ukraine, including flexibility regarding the geographical location of clinical trials already conducted before the start of the conflict;

Working towards an EU-Ukraine ACAA (Agreement on Conformity Assessment and Acceptance of industrial products) on GMP (Good Manufacturing Practice) inspections. This would include streamlining and digitizing approval processes to make them more transparent and efficient, and would ultimately ensure that products can enter the Ukrainian market faster and allow timely access to the patients that need them.

Creating a medicines verification system in Ukraine which could ultimately connect to the European Medicines Verification System. EFPIA believes that major benefits can be derived from following the path already established in the EU by the European Medicines Verification System. In the European Medicines Verification System (established and operated by EMVO) there is already the knowledge and expertise and EMVO can provide technical support to Ukraine.
EFPIA is committed to working with Ukraine to share expertise and best practice and to accelerate regulatory alignment and integration on medicines and stands ready to support a swift and effective membership of the European Union.  Nathalie Moll, Director General, EFPIA, said:
"EFPIA and its Members have worked closely with Ukraine over the past 18 months to ensure vital medicines continue to reach patients and to assist with aid wherever possible. This work will continue as long as it is required. 
We must also look to the future and how we can best assist with Ukraine's accession to the EU. This will require close partnership and sharing of technical expertise and best practice as we begin the transition of Ukraine into the EU data and regulatory space."