Environment, Health, Safety and Sustainability
Building a healthier and more environmentally sustainable future
Environment, Health, Safety and Sustainability (EHS&S) refers to the practices to protect the health and safety of employees and the public as well as the environment. Strong EHS&S management requires the implementation of systems and processes to assess and control the risks of environmental impacts and health and safety hazards. Besides assuring compliance with applicable legislation, EHS&S management systems drive continuous improvement and learning.

Equally important, the rapidly growing rate of resource consumption throughout the world is unsustainable.  The pharmaceutical industry recognizes that reversing the use of natural resources, the degradation of ecosystems and the disruption of the environmental systems that support human life, are critical for the benefit of current and future generations. Therefore, we believe that an increased focus on environmental sustainability is key for the future health of our planet.

EFPIA member companies strive to invent, produce and distribute new medicines and vaccines in a safe and environmentally responsible manner. Furthermore, we are actively providing a safe and healthy workplace while reducing the environmental impact in our operations and those of our supply partners around the world. A risk management approach is employed to create transformational health innovations, while protecting our employees and employing practical aspects of environmental sustainability.
Building a healthier and more environmentally sustainable futureThe pharmaceutical industry is committed to building a healthier and more environmentally sustainable future. We do this by driving an agile, innovative, evidence-based sustainability strategy to enable the pharmaceutical industry to embrace evolutions in science, technology & society and to integrate sustainability across our entire value chain to deliver quality-based, healthy and green outcomes while positively impacting on the lives of patients.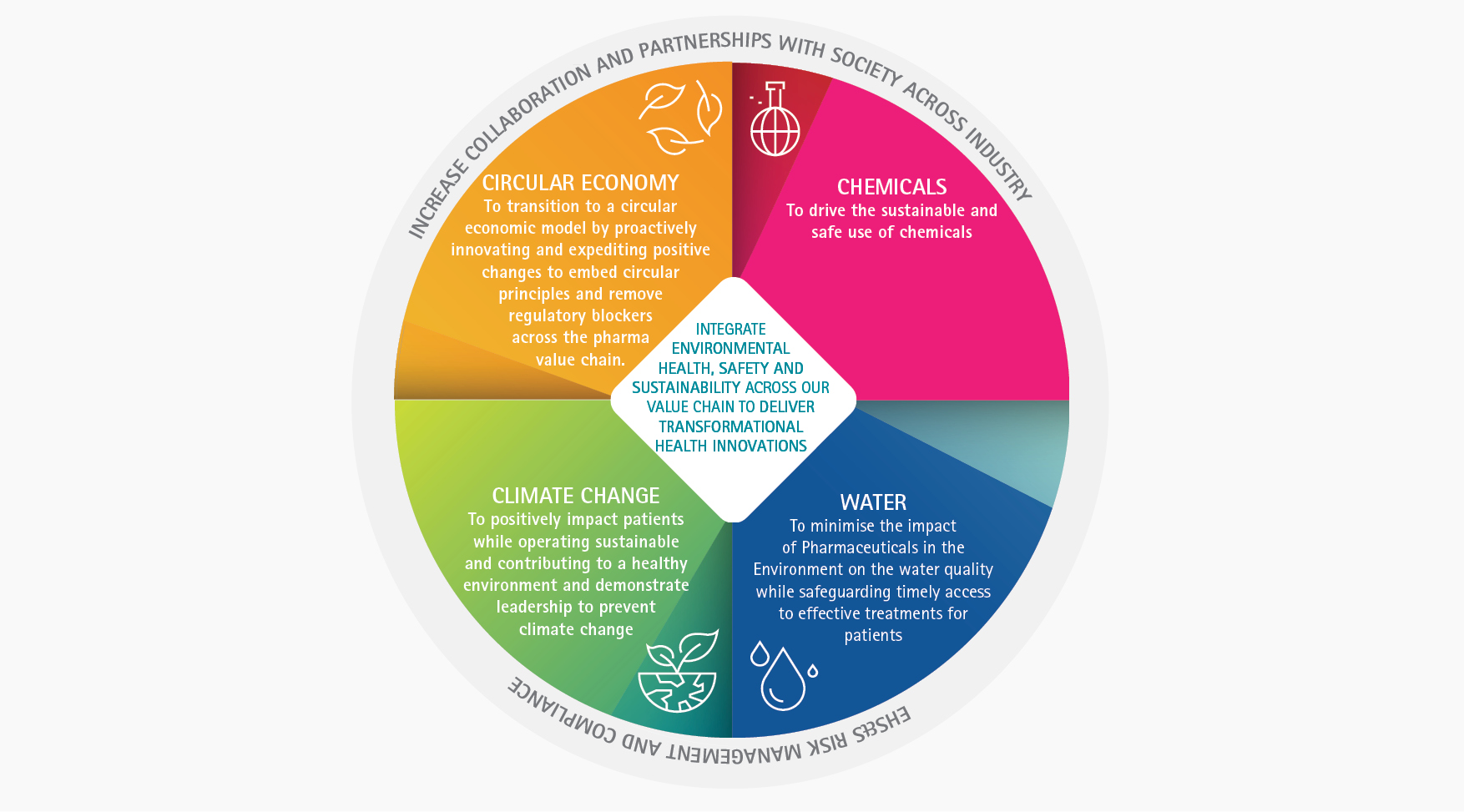 EFPIA welcomes and embraces the Commission's focus on the Green Agenda and a more sustainable Europe, and looks forward to engaging constructively on the roll-out of their policy priorities.

Our members are dedicated to making a positive impact on the lives of patients whilst operating in a sustainable manner. As we have a responsibility toward the health of the population, we are moving forward in making a beneficial impact by actively addressing climate change and the transition to a circular economy with changes throughout the value chain, as we continue to innovate. 

Environmental sustainability is a key value driver to accelerate delivery, improve efficiency and sustain transformational health innovation. Our industry encourages appropriate use of a risk-based approach to environmental challenges and undertakes initiatives to promote greater environmental responsibility.


Water - Pharmaceuticals in the environment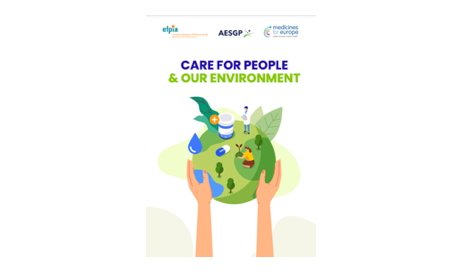 The European pharmaceutical industry is committed to continue playing an active role in addressing concerns around risks associated with Pharmaceuticals in the Environment (PiE). Minimising the impact of medicines on the environment while safeguarding access to effective treatments for patients is a critical issue across all sectors of healthcare.  
At EFPIA, we believe that a collaborative approach allows us to increase our mutual knowledge and understanding on how to proactively address any potential risks imposed by the presence of PiE. To this end, EFPIA, AESGP and Medicines for Europe have developed the Eco-Pharmaco-Stewardship (EPS) framework that applies the widely accepted principles of product stewardship and is implemented across the industry and with broader stakeholders in the healthcare and environmental sector.
Chemicals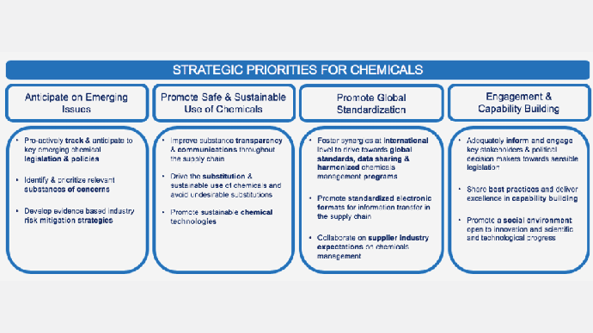 The pharmaceutical sector is one of the most regulated in Europe and the world.  Accordingly, the pre-approval of manufacturing plants, clinical trials and marketing authorisations should be given consideration when implementing and interpreting some elements of EU Chemicals legislation. The long development timelines and highly regulated nature of this industry are fundamental aspects of the ability to react to changes in legislation (e.g. restriction of chemicals). Chemical processes comprise a significant portion of a medicine's environmental footprint, and responsible use of chemicals is a key environmental stewardship priority for the sector.


Our member companies lead projects and initiatives to minimize the impact of their manufacturing process, including reducing the generation of hazardous waste, and using greener solvents. Due to the global operation of our companies and increasing number of countries with emerging chemical legislation, it is crucial that collaborations take place between industry and regulators globally.


EFPIA supports the need to develop a sustainable chemicals strategy and to promote research & development for the transformation of the chemical industry and the creation of green and sustainable manufacturing.
Climate change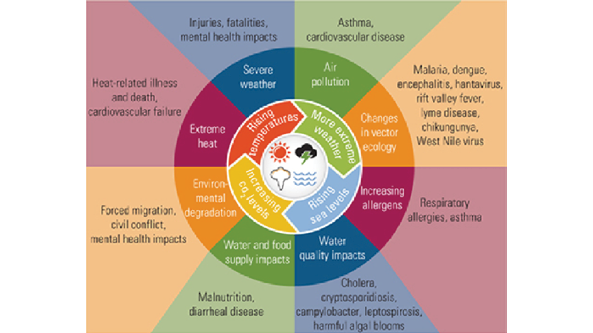 Direct or indirect human activities have altered the composition of the global atmosphere and increased carbon dioxide emissions, driving up temperatures. This has led to what we often observe as more extreme weather conditions and is referred to as climate change.
The pharmaceutical industry contributes to a healthy environment while demonstrating leadership in mitigating climate change. Our activities support the ambition the European Commission expressed through their European Climate policies. EFPIA member companies are committed to:
Establishing climate change policies and strategies based on materiality and impact for individual companies, and addressing their entire value chains;

Pursuing science-based CO2e reduction targets;

Contributing to reduced energy consumption and increased energy efficiency and seeking opportunities to use energy from renewable sources throughout the value chain;

Annually and publicly disclosing CO2 performance calculated according to recognized methodologies such as e.g. the World Resources Institute Greenhouse Gas Protocol.
Circular economy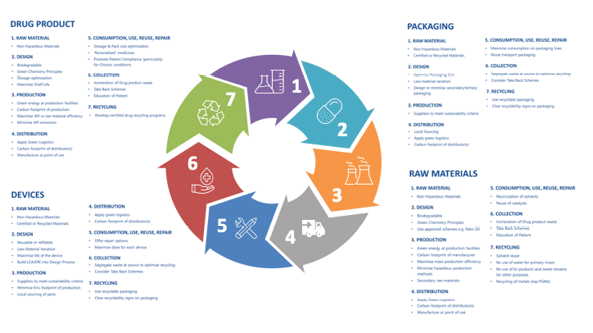 The Pharmaceutical Industry is supportive of a circular approach to its operations and products and is aligned with the European Commission's Circular Economy Action Plan. We will achieve the goals of the Circular Economy Action Plan concurrent with our aspiration to safeguard the future supply of pharmaceuticals for patients and improve human health. 

The pharmaceutical industry's approach to circularity builds on our long experience in environmental sustainability, while recognizing the constraints (e.g. speed of transition), from operating in a highly regulated industry. Circularity and regulation of pharmaceuticals should be carefully balanced. The innovation to enable circularity will drive new opportunities for growth, promote greater resource efficiency, create a more competitive economy and reduce pollutants.

Implementation of a circular economy is fundamental to help limit the global temperature increase to less than or equal to 1.5C, and we welcome the opportunity to be part of the solution by working collaboratively with the EU in shaping the legislative framework and within our organizations to mitigate our impacts.

IMI projects

The Innovative Medicines Initiative (IMI) is the world's biggest public-private partnership in the life sciences between the European Union (represented by the European Commission) and the European pharmaceutical industry (represented by EFPIA). It aims to improve health by speeding the development of, and improving patient access to innovative medicines, particularly in areas where there is an unmet medical or social need. This is achieved by facilitating collaboration between the key players involved in health research. Numerous projects have focused on improving the industries' environmental footprint while bearing in mind that the safety and efficacy of the medicines we produce must remain the primary objective: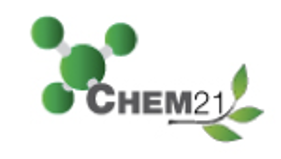 IMI CHEM21 project focused on the sustainability of the drug manufacturing processes and aimed to reduce the industry's carbon and environmental footprints. It generated a range of methods to make the drug development process more environmentally friendly and developed a metrics toolkit to measure the sustainability of chemical and biochemical reactions. The achievements of this highly successful project are transforming the pharmaceutical industry's manufacturing paradigm and providing savings that can be reinvested in the development of new medicines. Read more: IMI success stories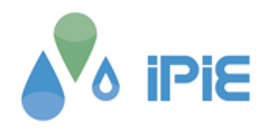 IMI iPiE - Intelligence-led Assessment of Pharmaceuticals in the Environment is a project that ran from 2015-2018 and aimed to develop a framework in which tools, assays and models could enable industry, regulators and interested academic researchers to identify and prioritise medicines that are most likely to present a risk for the environment. This multi-stakeholder project created a database on environmental information including more than 2000 studies for hundreds of existing active pharmaceutical ingredients.



IMI Premier (Prioritisation and risk evaluation of medicines in the environment) (Kick off September 2020): aims to deliver a novel assessment system for characterising the environmental risks of APIs, and which can be used to:
screen and prioritise legacy APIs for a tailored environmental assessment;
identify potential hazards associated with APIs in development and explore the options to steer the design process in a greener direction;

make relevant environmental data on APIs more visible and accessible to all stakeholders.
Medsdisposal Campaign
remove add
#medsdisposal is a campaign to raise awareness on how to dispose of unused or expired medicines appropriately in Europe, bringing information on current disposal schemes in European countries to one place. It is a joint initiative between European healthcare, industry and student organisations;

The Pharmaceutical Supply Chain Initiative
remove add
The Pharmaceutical Supply Chain Initiative (PSCI) is a group of pharmaceutical and healthcare companies who share a vision of better social, health, safety and environmental outcomes in the communities where they buy. Collectively PSCI members can share knowledge and expertise, across the industry, to drive complex, global change more effectively than any one organisation alone. The companies have joined forces to promote responsible supply chain management and better business conditions across the industry.

AMR Industry Alliance
remove add
Antimicrobial resistance poses a formidable threat to the attainment of the Sustainable Development Goals (SDGs). The United Nations called in 2016 for concerted action from governments and various sectors to address the implications of antimicrobial resistance in a comprehensive manner, and implement strategies at national level. The AMR Industry Alliance , led by the IFPMA, was the life-sciences industry response to the call for action.
The Alliance supports the increasing recognition that the value assigned to antibiotics and diagnostics often does not reflect the benefits they bring to society, nor the investment required for their creation.
The signatory companies committed to work to reduce the development of microbial resistance; invest in R&D that meets global public health needs with new innovative diagnostics and treatments; and to improve access to high-quality antibiotics and ensuring that new ones are available to all.
Read more
Netherlands' Initiative - Sustainable Pharmacy Coalition - Towards a sustainable pharmaceutical value chain
remove add
A sustainable pharmacy chain will only be successfully realised by means of extensive collaboration between the parties that form the chain itself, from the development and acceptance of medicines, through distribution, prescription and use, to waste processing and water purification. In signing the Green Deal for Sustainable Care, the Sustainable Pharmacy Coalition is committed to improving sustainability and is focusing on the following three cornerstones: encouraging circular working methods, clean water/combating medicine residues in water, and reducing CO2 emissions. See the summary of underlying goals.

Link to report