Transforming the lives of people living with cardiovascular diseases
The way forward to tackle Europe's #1 killer
The Facts are clear: Every day 5,000 Europeans lose their lives due to cardiovascular diseases (CVDs) like heart attacks or strokes. And the pandemic has made it worse: the millions of people with undetected CVDs were 5 times more likely to die.

Our vision as EFPIA Cardiovascular Health Platform 
is to address Europe's #1 killer, cardiovascular disease, and reduce premature mortality. We seek to do this in partnership with healthcare systems to ensure fast and equal access to innovative treatments for improved patient outcomes.


The EFPIA Cardiovascular Health Platform represents eight EFPIA member companies committed to R&D in cardiovascular disease, an area with still high unmet need. Our mission is to improve CVD patients' lives in Europe and drive policy change for better healthcare solutions by:
Partnering with key stakeholders to co-create health policies in the area of CVD such as secondary prevention, early detection and screening as well as optimal treatment, ultimately aiming for better quality of life for CVD patients.

Building the evidence to support policy proposals and recommend innovative solutions to policy makers and health-care systems, based on partnerships.

Promoting equal access and fast uptake of innovative medicines, following state of the art science and knowledge in CVD treatment.
Why we need to tackle Europe's #1 killer now
CVD is a group of conditions affecting the heart or blood vessels – they prominently include heart attacks and strokes, as well as arrhythmias and congenital heart disease. CVD is closely interlinked with other chronic diseases, such as diabetes or kidney disease, but also vascular dementia which is often caused by heart disease and stroke.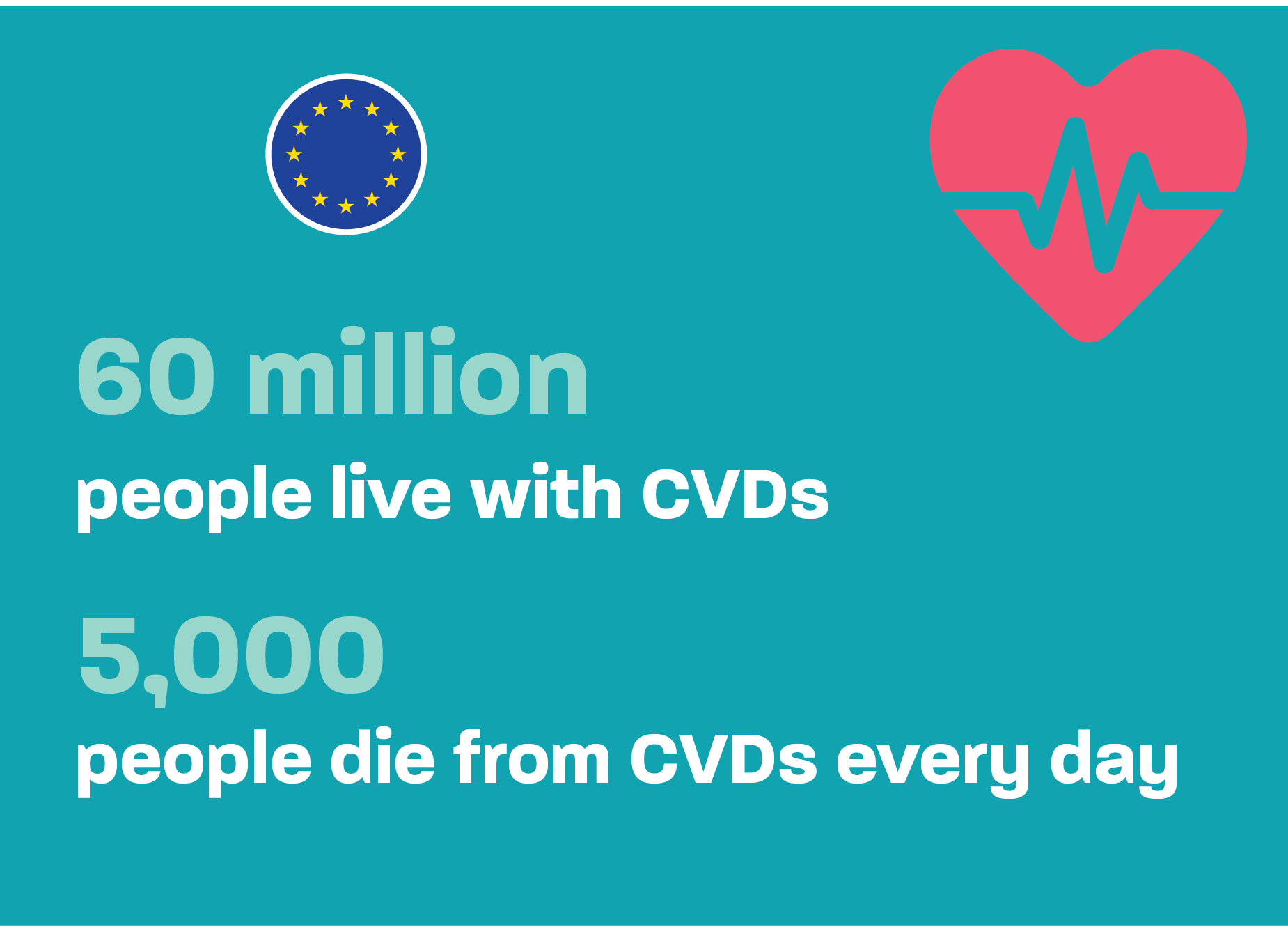 Sixty million people are living with CVD in the EU, and 13 million new cases of CVD are diagnosed in the region every year. Even in the absence of a global pandemic, CVDs are the leading cause of death in the EU, killing 5,000 people every day. Each of those deaths is a loss to a family, to a community and to society. The majority of these deaths are avoidable through effective public health and primary prevention interventions or through timely and effective health care interventions.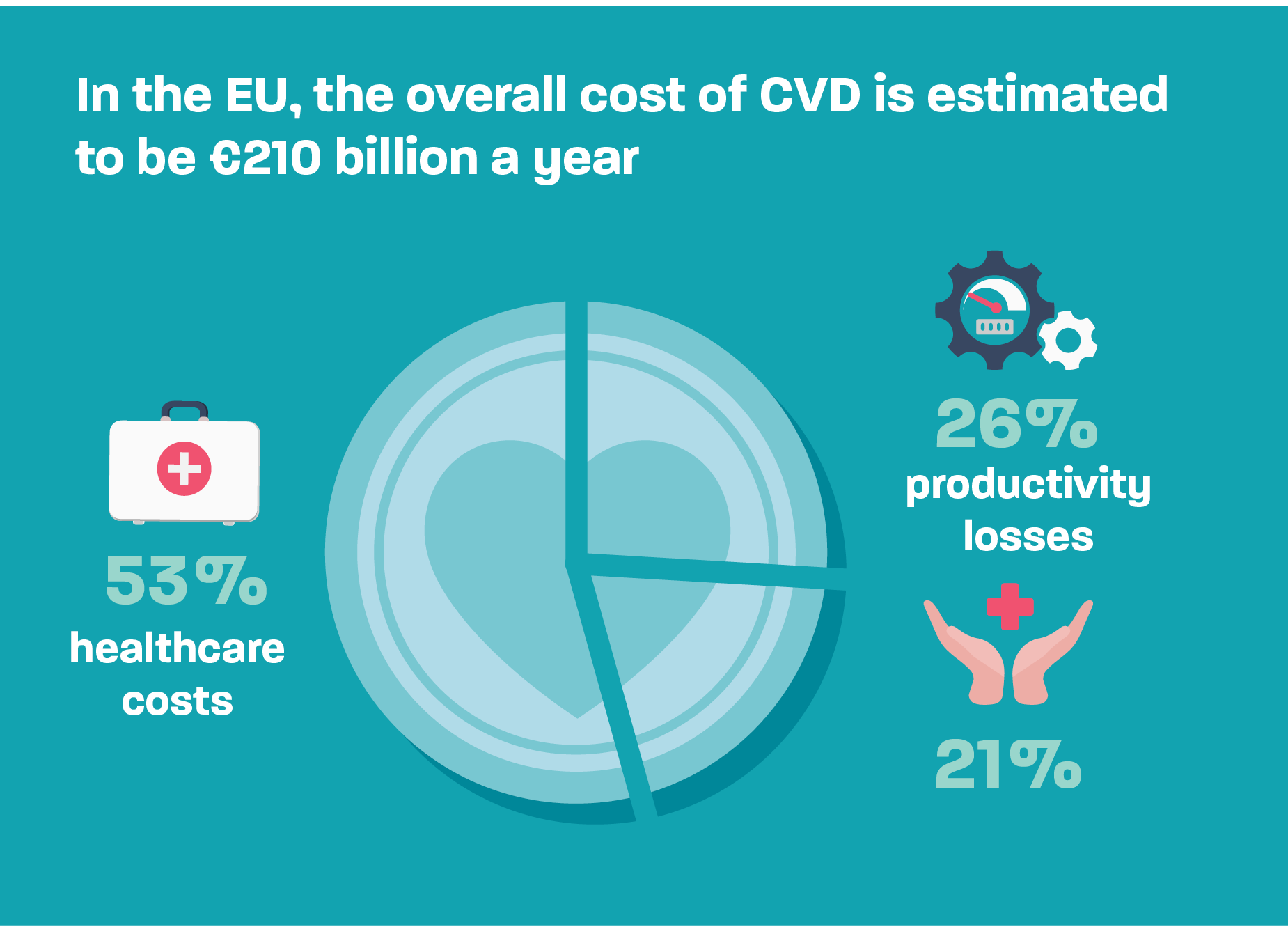 In 2015, the EU economy lost €210 billion to CVD; of which €111 billion (53%) was in health care costs, €54 billion (26%) in productivity losses, and €45 billion (21%) was in the costs of informal care of people with CVD. These costs will increase on a yearly basis driven by the triple threat of demographic changes, lifestyle factors, and climate change. But also worldwide, CVD is the leading cause of death. In 2019, an estimated 17.9 million people died from CVD, representing 32% of all global deaths.

Therefore, the UN 

Sustainable Development Goals (SDGs)

aim to combat NCDs and any newly set up EU strategy should feed into promoting combatting CVD also on a global scale in multilateral and bilateral efforts. EU-CVD-strategies should hence cover both dimensions - the purely EU internal but also EU global health strategy.

Thereby, any strategy to re-set health care priorities and drive economic stability must address cardiovascular diseases as a root cause of the stress on our health systems, pressure on our welfare systems, and productivity losses in our workforces. And innovation and digitalization promotion are  solutions to creating better health prevention, treatment and coverage for patients. The EU Digital Health Union and EU Innovation initiatives such as IMI, IHI and IPCEI are therefore key also to CVD.



1) Seeing the high prevalence and the high burden of cardiovascular diseases for European society, we call on EU policy makers to prioritize the fight against CVDs. Conditions like heart attacks, heart failure, strokes, atrial fibrillation, and others as well as their underlying risk factors need to be addressed with a specific policy plan when building more resilient health-care systems.
2) Fast implementation of decisive action to mitigate cardiovascular risk factors: Cardiovascular (CV) risk factors need mitigation through appropriate screening and early detection programmes. This could be done via a yearly heart health check at the primary care level where most of Europe's CVD-patients are managed. Screening strategies and policies need to be updated to reflect the latest scientific evidence. Healthcare Professionals (HCPs) need to be trained to detect these diseases early to avoid late or misdiagnoses.
3) Initiation of specialized secondary prevention programmes: Besides deepening primary prevention programmes, CVD-patients need specialised secondary prevention programmes supporting them to achieve better long-term outcomes. An improved adherence to the current scientific treatment guidelines would accelerate the delivery of innovative solutions to patients. HCPs need comprehensive guidance ensuring implementation of discharge and follow-up protocols.
4) Health inequities across Europe and within countries need to be addressed: The current status of health inequities in Europe (both across the EU with poorer outcomes in the CEE countries vs. Western Europe and within countries) is not acceptable. Population-wide programmes specifically designed to help countries and regions to overcome these inequities need to be prioritised. Continuous monitoring, specific policies at the EU-level as well as harmonised data registries in the member states, could help to identify and effectively address inequalities.
5) Building data & digital capacities e.g., through region-wide registries: Region-wide registry capabilities are needed to monitor outcomes and collect data on interventions in a meaningful way. Better use of data & digital will help identify the right patients for these interventions and provide better data for research and development of innovative treatments. States which pioneer impactful CVD-programmes should be incentivised and their programmes should be promoted as inspiration for others. Positive competition should be endorsed through increased transparency around the health status of CVD-patients in individual countries. EU institutions have a fundamental role to play in this context.
6) Leveraging pharmaceutical innovation & collaborative partnerships: Innovation, including collaboration between public and private entities, needs to be fostered to address the burden of CVD, overcome treatment bottlenecks, and positively influence population health. Pharmaceutical innovation has a role to play in addressing unmet medical needs and seeing improvements in outcomes for CVD patients back on track. This requires strong and stable incentives for innovation in Europe: a state-of-the-art intellectual property framework, a fast and predictable regulatory system and appropriate/holistic valuation of innovation by payers and HTA bodies.Also, promoting health care innovation is an investment that pays off double: It adds to innovative treatment options for patients, to economic growth and jobs in the European Union. We therefore must see health care expenditure and innovation promotion as an investment to all dimensions of our society.
EU CVD policies can help create greater health equity in the EU: the way forward
The European Society of Cardiology (ESC) and the European Heart Network (EHN) have published a blueprint for European action, identifying several immediate needs in the CVD landscape.
The European Commission has expressed an interest in leadership on addressing public health challenges and driving best practices across the region. The needs around CVD present an opportunity for the EU to demonstrate leadership to achieve the WHO goals, endorsed by the UN, of reducing CVD by 25% by 2025 by promoting the need for comprehensive CVD national action plans, including reduction of mortality targets, establishing targeted screening policies and promoting innovative access schemes and patient identification strategies.
To achieve impact on cardiovascular health requires a closer collaboration between policy makers, the healthcare system and industry. Public private partnerships could help pool resources to co-create and share value and improve population health outcomes at scale. For this, innovative thinking and political leadership is needed to change the current inertia and perception that CVD is only a lifestyle driven disease. Additionally, financial and non-financial incentives plus digital solutions for patient identification and risk stratification are needed to support the improved management of CV-conditions.
Collaboration and partnerships
A focus area of the Cardiovascular Health Platform is building the evidence to drive better policy proposals and innovative solutions, supporting CVD-patients, their caregivers as well as health-care professionals. This will be done through collaborations with all relevant stakeholders in the CVD-field. In this regard, EFPIA has decided to co-found the European Alliance on CV Health (EACH) to boost policy action and awareness together with 15 other partner organizations. 
Towards a new normal: Why boosting CV health is critical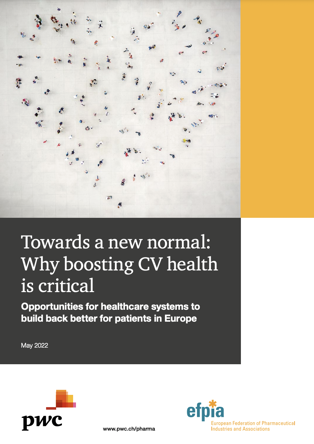 The EFPIA Cardiovascular Health Platform commissioned a report in collaboration with PwC on "Boosting cardiovascular health in Europe: towards more resilient and equitable healthcare", to assess the impact of COVID-19 on cardiovascular care and to explore possible policy actions to strengthen the healthcare systems' response to cardiovascular diseases.

Download the report