Cancer and COVID-19 | Looking Past the Pandemic: Cancer care for 2022 and Beyond
Virtual event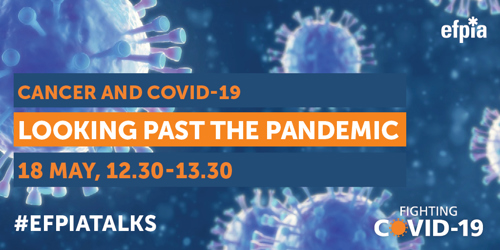 The EFPIA Oncology platform is delighted to invite you to "Cancer and COVID-19 – Looking Past the Pandemic - Cancer care for 2022 and Beyond", the third and last of a series of virtual events focusing on the impact of COVID-19 on cancer care, that will be held on 18 May from 12.30 to 13.30 CEST.
Topics of discussion will be:
What will be the likely economic impact of the pandemic, and the EU health infrastructure?

How do we ensure a post-COVID-19 Europe that continues to support healthcare innovation?

What are the implications post-pandemic on cancer?

To what extent have the priorities for cancer changed?

What key changes should be made post COVID-19 in the EU?