How the pharmaceutical industry is working to avoid and replace the use of animals for scientific purposes
Zoom
Members of EFPIA have committed to the science-based phase-in of methods to replace the use of animals for scientific purposes and the deletion of animal tests which are obsolete or redundant. EFPIA members aim to lead progress on this by engaging in a wide range of activities to help drive the development, uptake and promotion of non-animal technologies (NATs) and new approach methodologies (NAMs) so that these can be phased-in as soon as it is scientifically possible to do so.
During this free-to-attend webinar event, held on Thursday 22 June 2023 (10:00-12.00 CET) in conjunction with the Animals in Science team at the RSPCA - the UK's leading animal welfare organisation - participants will hear about practical steps that are being taken within the industry to avoid, replace and reduce animal use. We will highlight opportunities for making further progress, and discuss the challenges involved, providing examples of current work towards overcoming these. There will also be a presentation on 'what does success look like?' which will identify potential key performance indicators to monitor progress with avoiding and replacing animal use.


Agenda and confirmed speakers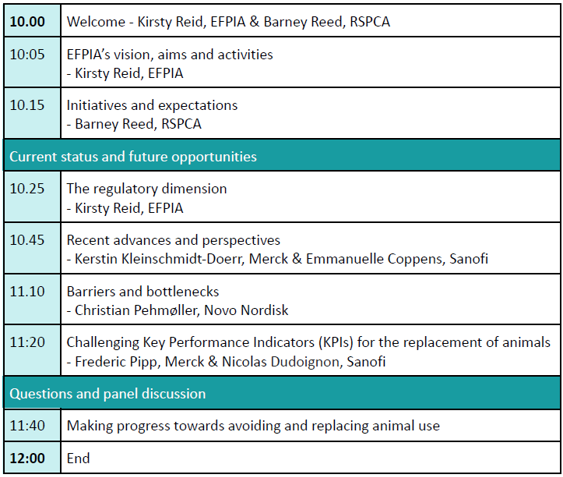 Register here before 20 June!