Incentives, IP and smaller companies – the story of ProAxsis
The development pipeline of ProAxsis: continued innovation fostered by incentives
Incentives, IP and smaller companies – the story of ProAxsis
With over 7,000 medicines in development, new treatments will continue to change patients' lives, slowing disease progression, avoiding illness and reducing overall costs for healthcare systems. But developing a new medicine is a long, complex and risky process with no guarantees of success. Over the coming weeks, we look at a number of new medicines and the role that pharmaceutical incentives (or IP) have played in their development.

How ProAxsis helps to change patients' lives by improving diagnostics
ProAxsis Limited is a spin out from Queen's University of Belfast, and based in Belfast, Ireland. Since its foundation in 2013 the company has created 8 full-time jobs. The company keeps expanding headcount and expertise, particularly in the area of research, and assay and product development.
ProAxsis develops and commercialises laboratory-based immunoassays and point-of-care tests for the measurement of active protease biomarkers of disease of diagnostic and prognostic value. Development is currently focussing on respiratory diseases such as Chronic Obstructive Pulmonary Disease (COPD), bronchiectasis and cystic fibrosis, but the technology has the potential to be adapted for many other disease areas, including oncology and cardiovascular disease.
The impact of the product on patients, families, healthcare systems and society
Proteases are a large grouping of biological molecules that play pivotal regulatory roles in most physiological processes required for life. When the normal control of their action is lost, protease activity can be key triggers or amplifiers of many important human diseases such as cancer, myocardial infarction, stroke, Alzheimer's disease, rheumatoid arthritis, Multiple Sclerosis, bronchiectasis, chronic respiratory diseases such as cystic fibrosis and COPD as well as bacterial and viral infections and non-healing wounds.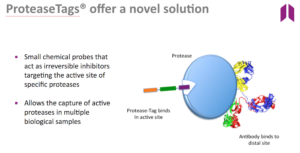 The ProteaseTag® technology developed by ProAxsis presents a unique, cost effective, rapid and easy-to-use method of detecting and quantifying the activity of a single protease species to the clinical and R&D arena. It works in a wide range of complex crude biological fluids, including clinical samples, such as tumour homogenates, sputum, bronchoalveolar lavage, blood and wound exudates. 
The tests can be applied to a broad spectrum of disease processes in which abnormal protease activity is a key feature, such as inflammation, thrombosis, tumour invasion/metastasis and wound healing. Moreover, ProteaseTags® are species-blind; this means they can be utilized to detect bacterial, viral, amphibian as well as mammalian proteases. They can also be used for diagnosis in bacterial lysates and biofilm cultures, and for amphibian secretions and venoms.

The first ProAxsis product on the market, a laboratory-based immunoassay for the measurement of active neutrophil elastase (NE), received European CE Marking registration in September 2016. In a recent study published in the American Journal of Respiratory and Critical Care Medicine, elevation of active NE was correlated with increased risk of pulmonary exacerbation, and therefore increased hospitalisations and poorer clinical outcomes. As each exacerbation can cost the health services in Europe up to €10,000 per patient, an assay such as this can provide significant savings as well as providing improvements to the long-term health outcomes of the patient.
The development pipeline of ProAxsis: continued innovation fostered by incentives
ProAxsis has patents registered in both Europe and the US for the design and synthesis of its protease inhibitor probes. The strong IP protection was a key reason for winning NetScientific plc as a seed investor at a very early stage, long before the first product was launched on the market. NetScientific is a biomedical and healthcare technology commercialisation and investment group that identifies, develops and commercialises research and technologies originating from leading universities, teaching hospitals and research institutes globally. Becoming a portfolio company of NetScientific afforded ProAxsis the opportunity to collaborate with a global network for commercialisation and technical product development. ProAxsis continues to ensure the protection of new product developments with further patent applications, as IP protection forms the basis for gaining investors, development partners, and international grants.
Their novel diagnostic approaches for the benefit of patients helped ProAxsis to secure a Horizon 2020 EU research grant supporting the phase I development of their diagnostic tests. The company is also currently looking into obtaining financial, technical and scientific support to further extend its innovative portfolio through international cooperation and funding in the Eurostars[1] program. Eurostars supports the development of rapidly marketable innovative products, processes and services that help improve the daily lives of people around the world by research and development- performing small- and medium-sized enterprises (R&D-performing SMEs).
IP rights and EU incentives enable innovation for the cures of tomorrow
In September 2017 ProAxsis gained the CE Marking registration of NEATstik®. This is a point-of-care test, designed to allow rapid and easy self-monitoring for patients. This early warning system allows patients at increased risk of suffering a pulmonary exacerbation to seek help early enough to prevent a worsening of their condition and hospitalisation. Further laboratory-based immunoassays are also expected to launch before the end of 2017.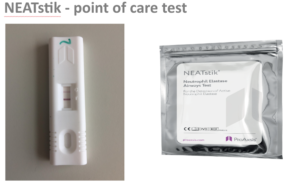 ProAxsis continues to extend its innovation journey to other therapeutic areas. A project co-funded by the UK's innovation agency, Innovate UK, aims to create a ProteaseTag® immunoassay for active pancreatic elastase. This test would enable the quick and precise assessment of pancreatic insufficiency in patients suffering from diseases such as cystic fibrosis, chronic pancreatitis and pancreatic cancer.
ProAxsis also keeps advancing the sensitivity of its technology to maximise the range of biological samples it can be used with. This improves the chances of success for a rapid and easy diagnosis, and potentially for important new therapeutics to help improve patients' lives.
[1] www.eurostars-eureka.eu
*Photos by courtesy of  ProAxsis