Stories from the frontline: As an intensive care doctor, I could not wait and do nothing. It runs through my veins: I wanted to help (Guest blog)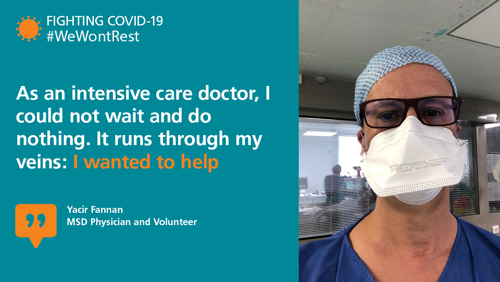 All over France, many MSD employees have volunteered to help health authorities mitigate the impact of COVID-19.
Yacir Fannan is an Infectious Disease Medical Affairs Specialist at MSD France, based in Marseille. In the last weeks, he has decided to put back on his doctor's coat to fight the Covid-19 pandemic and help patients.
Trained as an anaesthetist-animator, he worked at a hospital for about fifteen years. This line of work, which can be emotionally and physically draining, gradually led him to become interested in what happens to patients after resuscitation. After specializing in psychotherapy, he took care of people in the post-traumatic phase following an often long and difficult resuscitation.
At the beginning of the Covid-19 health crisis, Yacir was contacted by the Deputy Director of AP-HP, to ask if he could go to Paris to help in some hospitals. This prompted him to inquire about the possibility to volunteer in his region, which would no doubt also be affected. Thus, he joined the reference hospital for Covid-19 for the Bouches-du-Rhône region, as a resuscitator.
Through his mission at the hospital, Yacir takes care of the many people suffering from acute respiratory distress syndrome caused by the virus, two to three days a week, as needed. COVID-19 patients require mechanical intubation and ventilation and are placed in an artificial coma for several weeks. With the help of a ventilator (ECMO) that replaces the lungs, patients are accompanied "mechanically" until they can regain a certain degree of autonomy.
"We are currently experiencing a very special situation that raises many questions and sometimes concerns. As an intensive care doctor, I could not wait and do nothing, it runs through my veins, this is why I was trained: I wanted to help. In this respect, I also thank MSD for giving me the opportunity to help the health system and the patients on working days».
Working on the frontline of the COVID-19 crisis threw him in a new environment: daily monitoring of numerous international publications, participation in crisis meetings, adoption of strict rules. A bit apprehensive at first, he adapted in a few days, as if he had never left the hospital. Of course, the emergency is not over, but the expected saturation in the centre he has been working at, has not been reached, allowing the nursing staff to continue to take optimal care of the patients.
"I would like to thank everyone who respects social distancing and helps to ensure that the hospitals are not overwhelmed, so that we can continue to do the maximum for the patients. When this is over, I'm hoping for a new beginning so that everyone can continue to move forward. There is hope».