Stories from the frontline: We must modestly make our contribution and stick together to express our spirit of solidarity (Guest blog)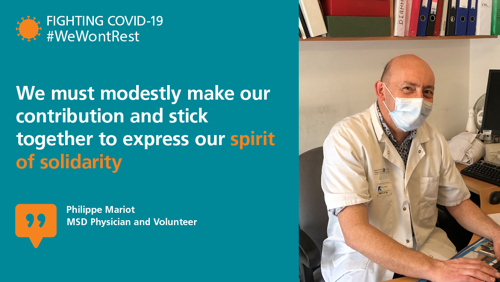 MSD employees around Europe have volunteered to fight the virus on the frontlines and help health authorities limit the impact of COVID-19. We wanted to share their commitment and testimony with you.
Philippe Mariot has been a Medical Affairs Associate Director for MSD since April 2019; he is responsible for the development and implementation of the medical strategy for HIV. Trained as a general practitioner, he specialized in Infectious disease and worked several years in clinical research.
Each week, in addition to his position at MSD, he works half a day at the Tenon Hospital in the 20th arrondissement of Paris. At the beginning of the Covid-19 pandemic, he quickly decided to volunteer to help patients and relieve some of the burden being felt by hospitals. When Pr. Pialoux, Head of the Infectious Diseases Department at Tenon, asked him if he could come more often, he did not hesitate.
Now, two days a week, Philippe goes to this hospital in the north of Paris, where he puts on his gown, gloves and mask to help coordinate ongoing studies on Covid-19. Data collection from patients, data entry and review, coordination with other departments; all of which will help advance knowledge about the virus, its management and treatments. "The organization of the department has completely changed." he explains. "At the moment, it is dedicated only to patients infected with Covid-19, who need hospital follow-up and special care. My work also frees up a lot of time for the department's doctors, who have been mobilized to take care of Covid-19 patients and have been on the front line since the beginning of the pandemic».
As a doctor, Philippe considers his volunteering in these circumstances as natural: a way to express collaboration and a spirit of solidarity to help patients and doctors on the front line. "We must modestly make our contribution and stick together. Improving and saving patients' lives is part of MSD's values. The opportunity that our company gives us to aid healthcare professionals fighting at the forefront of the COVID-19 emergency shows our commitment to all our stakeholders and the healthcare system».